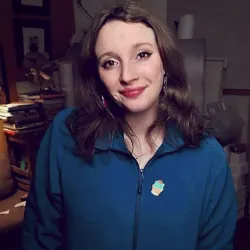 Latest posts by Emily Rowe
(see all)
Ever since its release in 2013, the adult animation sci-fi Adult Swim series Rick and Morty has been a cult hit. The fan base may have gotten a bad reputation over the years, but you don't need to queue for hours outside of a McDonald's for a pot of Szechuan sauce to enjoy Dan Harmon and Justin Roiland's bleak yet hilarious sitcom.
While we wait and wait for season six, there are plenty more adult animation shows out there to fill the Rick and Morty-sized black hole in your life.
Whether it's Rick and Morty's blend of nihilistic philosophy with dark humour or its combination of comedy and action-packed sci-fi, this list of 10 great adult animation shows like Rick and Morty has you covered.
Bottom Line Up Front Summary
You can read the full article for details about each of these TV shows, but here's the top-level run-down of the best adult animation TV shows like Rick and Morty:
Solar Opposites: Sci-fi adventure created and with voices by Justin Roiland – who also co-created Rick and Morty and provides voices for the titular characters.
Big Mouth: Off-the-wall, crude comedy that Rick and Morty fans will love.
Futurama: The original sci-fi adult animation – Futurama walked so that Rick and Morty could run.
Final Space: More sci-fi, more adventures, and another Adult Swim hit.
Adventure Time: It may be for kids, but Rick and Morty fans will love the surreal humor of this cult sensation.
Invincible: Bloody action tempered by heartwrenching storylines. Any Rick and Morty fans looking for well-written adult animation will enjoy Invincible.
BoJack Horseman: Adult animation at its finest. Deep, sharply written, and always packing emotional punches.
Disenchantment: From the creator of Futurama and The Simpsons, if you like adventure and wacky humor, Disenchantment has you covered.
Archer: This spy agency full of narcissists and psychopaths has all the rapid-fire humor and action that Rick and Morty fans need.
The Venture Bros.: Before there was Rick and Morty, there was The Venture Bros. Rick and Morty fans will feel safe in the hands of Adult Swim's longest-running show.
Hororable Mention: Community: If you love Rick and Morty, it may be because you love Dan Harmon's sharp humor. If so, go check out his other show, Community.
The Best Shows Like Rick and Morty: Selection Criteria
Thanks to the success of TV shows like Rick and Morty, adult animation shows are more popular than ever, so this list focuses on adult animation TV shows that ticks at least one of the following boxes:
Dark humor: Rick and Morty is known for its black comedy and morbid humor. Fan of Rick and Morty love its hilarious use of morbid, cynical, and often taboo jokes, so plenty of shows on this list fit this criterion.
Pop culture references: In addition to its dark humor, Rick and Morty has never shied away from pop culture references. From turning Steve Jobs into the devil to an entire episode based on George Orwell's classical play, Animal Farm, in which Morty's dog rises up against humans. Many of the shows on this list make use of pop culture references as part of their humor.
Philosophical underpinnings: Another thing Rick and Morty fans love about the show is its willingness to delve into philosophical topics, in particular nihilism, cosmicism, and existentialism. Several shows on this list are also unafraid of blending comedy with serious portrayals of mental health, alcoholism, and subtle insights into humanity.
Sci-fi: Rick and Morty is a sitcom but it's also firmly in the sci-fi genre. If sci-fi adventures are your thing, you'll find plenty of sci-fi adult animation on this list – plus a few fantasy shows too.
Adult Swim: Rick and Morty put the programming block Adult Swim on the map but it has a ton of popular, funny TV shows other than Rick and Morty – expect to see some of those on this list too.
Why is 
Rick and Morty 
so Popular?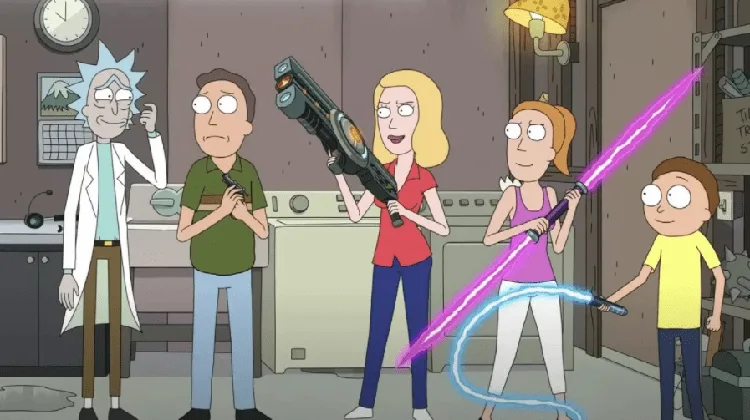 Rick and Morty is hugely popular because it is well-written, full of smart and often dark humor, and packed with a blend of light-hearted satire and deep, philosophical commentary. And it has a healthy dose of sci-fi adventure too.
A bit of background about the show. First released in 2013, Rick and Morty was created for Adult Swim, Cartoon Network's late-night programming block. Its creators are Justin Roiland, who also voices Rick and Morty, and Dan Harmon, creator and producer of Community.
In addition to Roiland's voicing of the main characters, Rick and Morty also stars Chris Parnell (SNL, 30 Rock, Archer) as Morty's dad, Sarah Chalke (Scrubs, How I Met Your Mother) as his mom, and Spencer Grammer (GREEK) as his older sister.
The comedy chops of the small but talented cast are another part of Rick and Morty's success.
Rick and Morty received widespread critical acclaim and a devoted fan base. Known for its quick and dark humor, originality, and offbeat wit, Rick and Morty has remained popular with its fans throughout its run. Season five was released in 2021 and we're eagerly awaiting a sixth season.
In the meantime, you might need some more wacky, adult animation to fill the gap. So here's a breakdown of the top ten adult animation TV shows like Rick and Morty.
Solar Opposites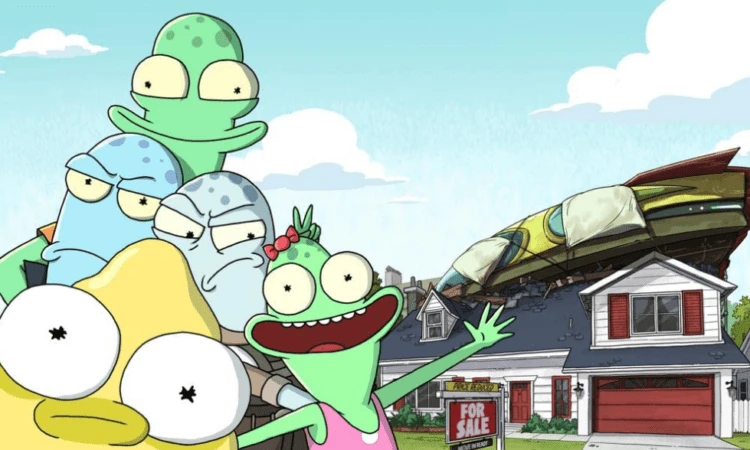 Fans of Rick and Morty are sure to love Solar Opposites. After all, it's created by Rick and Morty's co-creator and voice of its two title characters, Justin Roiland, along with Mike McMahan – one of the first writers hired to write for Rick and Morty.
Another sci-fi comedy, Solar Opposites follows a family of aliens forced to live in middle America, paralleled with a story about a group of humans shrunk and imprisoned in a terrarium.
The series has voices from several well-known actors, including Roiland, Thomas Middleditch (Silicon Valley), Christina Hendricks (Mad Men, Good Girls), Sterling K. Brown (This Is Us), and Rainn Wilson (The Office).
With sharp humor balanced with charm and commentary on humanity itself, Rick and Morty fans will feel safe in Roiland's hands in his new show.
Solar Opposites has two seasons and has been renewed for a third. You can watch it over on Hulu.
Big Mouth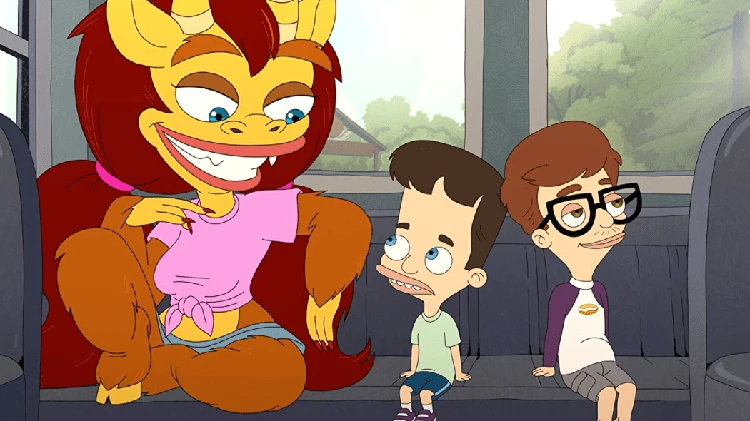 If it's Rick and Morty's off-the-rails comedy that got you hooked, Nick Kroll's coming of age sitcom Big Mouth could be your next addiction.
Big Mouth centers on teens going through puberty, their experiences often materialized in the form of 'hormone monsters' – overly-sexualized and crude shoulder angels who cannot be seen by adults. Viewers can expect jokes about pubes, masturbation, periods, and everything in between.
With its truly wacky comedy, Big Mouth is one of the funniest shows to come out this decade. Expect dream sequences with singing tampons and pregnant pillowcases. With all the shock factor of Rick and Morty and then some, adult animation fans will find plenty to love in Big Mouth.
Big Mouth has five seasons so far and we're expecting a sixth. You'll hear the voices of Nick Kroll (Kroll Show), John Mullaney (SNL), Fred Armisen (SNL, Portlandia), and many more. You can watch the whole thing on Netflix.
Futurama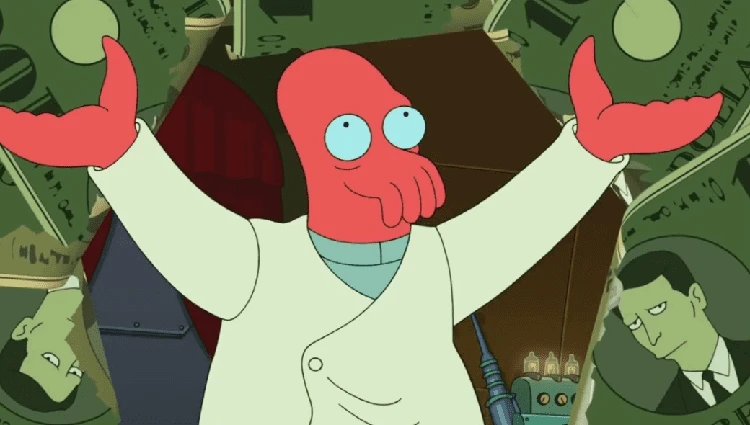 Futurama walked so that Rick and Morty could run. The Simpsons creator Matt Groening took his comedy to the future in this satirical sitcom.
The series follows the life of Fry (Billy West), a pizza delivery boy who is accidentally cryogenically frozen and wakes up in the 31st century.
He gets a job as an interplanetary delivery boy for Planet Express and meets futuristic characters including Bender the robot (John DiMaggio) and Leela the one-eyed spaceship captain (Katey Sagal).
With its blend of silly and satiric humour and space adventures, anyone looking for shows like Rick and Morty can't go wrong with Futurama. The show ran for seven seasons and has 140 episodes – plenty to binge while you wait for season six of Rick and Morty.
You can watch all of Futurama on Disney Plus or Hulu.
Final Space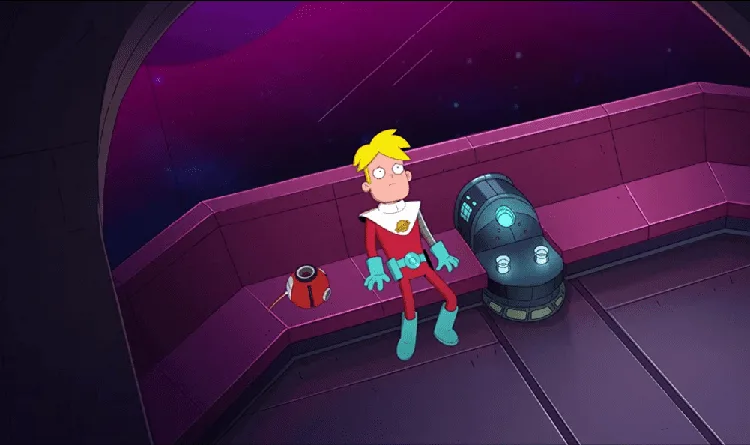 If you need some more space adventure shows similar to Rick and Morty in your life, look no further than Final Space. A blend of comedy and high-stakes space opera drama, Olan Rogers' Final Space has plenty of sci-fi to binge on.
The series centers on Gary Goodspeed (Rogers), a well-meaning but witless astronaut who finds a mysterious alien, who he named Mooncake (also Rogers). It turns out Mooncake has the power to destroy planets and is being pursued by the evil Lord Commander (David Tennant).
In Gary's quest to protect Mooncake, he teams up with robot HUE (Tom Kenny, a.k.a. Spongebob Squarepants) and shipmate Quinn Ergon (Tika Sumpter).
You can expect to hear a ton of other famous voices in this sci-fi dramedy, including Fred Armisen, John DiMaggio, Jane Lynch (Glee), Conan O'Brien, and Gine Torres (Firefly).
Final Space has two seasons and a third coming out soon. You can stream it on Adult Swim and HBO Max.
Adventure Time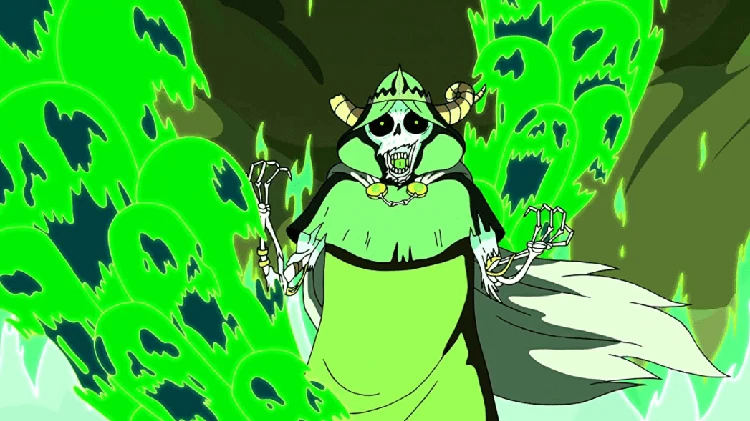 A fantasy animated TV show about two best friends going on adventures and packed with surreal comedy? Pendleton Ward's Adventure Time has all of this and more. If you're looking for shows like Rick and Morty, Adventure Time is another classic animation series that has won the hearts of kids and adults alike.
Adventure Time follows the adventures of Finn (Jeremy Shada) and his best friend Jake the dog (John DiMaggio, a.k.a. Bender from Futurama).
Despite being aimed at children, the show quickly gained a cult following amongst adults, who love its Dungeons & Dragons and video game-inspired stories, off-the-wall, surreal comedy, and willingness to explore sad and dark plots too.
Adventure Time ran for 10 seasons from 2010 to 2018. The whole series can be streamed on Hulu.
Invincible

If sci-fi action with a perfect blend of blood, brutality, and charm is your thing (which if you love Rick and Morty, it probably is), Invincible should be your next watch.
Invincible was created by comic book writer and screenwriter Robert Kirkman (who also wrote the Walking Dead comic book series) and is based on Kirkman's comic book series of the same name, illustrated by Cory Walker and Ryan Ottley.
The series follows the life of Mark Grayson, whose father is the most powerful superhero in the world and he too starts developing superpowers when he turns seventeen. Grayson is voiced by Steven Yeun, who also provides voices for animated series such as Final Space and Tuca & Bertie.
You'll also hear the voices of Sandra Oh (Grey's Anatomy, Killing Eve), J. K. Simmons (Spider-Man, Whiplash, and a ton of other films you've seen), and Gillian Jacobs (Community).
Invincible is dark, provocative, and yet full of heart and earnest storytelling. So far we just have the one season, but Invincible has been renewed for at least two more. You can watch it on Amazon Prime.
BoJack Horseman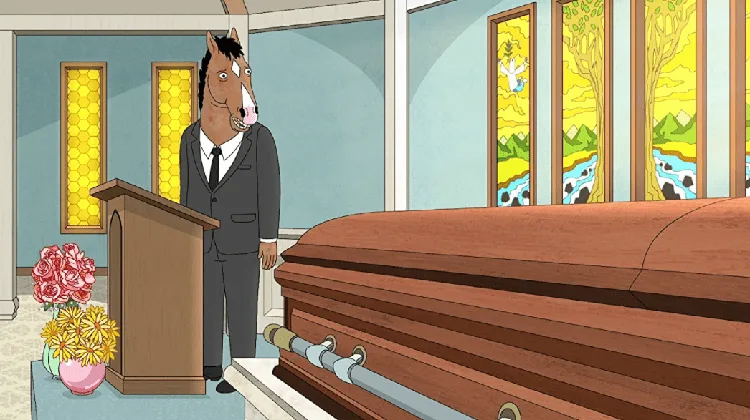 If it's a blend of satirical comedy with hard-hitting emotional punches that you're after, BoJack Horseman ticks all the boxes. Fans of Rick and Morty will enjoy its dark comedy and surreal humour, but you can expect plenty of heart-wrenching moments along the way.
Created by Raphael Bob-Waksberg, who co-produces the Netflix/Adult Swim series, Tuca & Bertie, BoJack Horseman is set in a fictional world made up of humans and anthropomorphic animals.
The series surrounds a horse, BoJack Horseman (voiced by Arrested Development's Will Arnett), a has-been celebrity who starred in a 1990s family sitcom. BoJack lives with his slacker couch-crasher Todd (Aaron Paul from Breaking Bad) and soon meets Diane (Alison Brie), a writer who has been hired to ghostwrite his memoir.
BoJack Horseman is filled with cynical and often absurd humor, but it also follows real-world issues. From following BoJack's alcoholism and mental health issues to dealing with topics such as sexual harassment and abortion, BoJack Horseman proved time and time again it was more than a cartoon.
BoJack Horseman ran for six seasons and you can watch them all right now on Netflix.
Disenchantment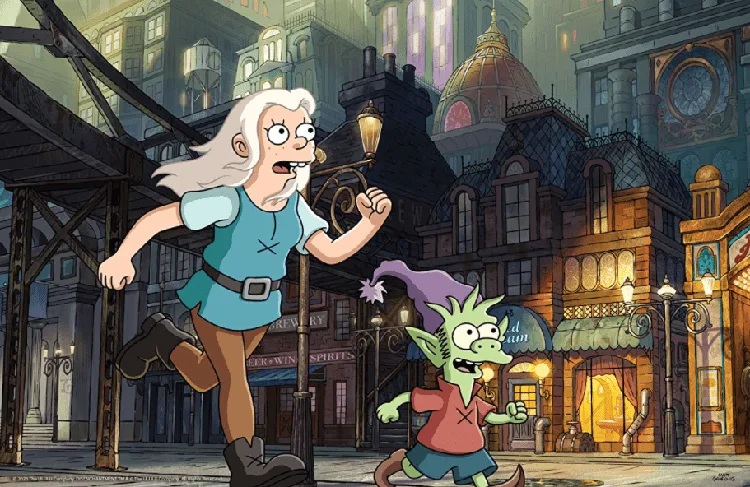 Anyone after TV shows like Rick and Morty will find plenty to love in Disenchantment. Created by The Simpsons and Futurama creator Matt Groening, Disenchantment is a fantasy, satirical comedy series set in a fantastical version of medieval Europe.
The series stars Abbi Jacobson (Broad City) and Bean, a tomboyish teen princess with a rebellious personality and a penchant for drinking and gambling. Bean is sent a personal demo, Luci (voiced by the one and only Eric André) and the pair befriend an overly optimistic elf named Elfo (Nat Faxon).
Disenchantment follows the adventures of the trio and Bean's rebellions against her father, King Zøg (Futurama's John DiMaggio).
Disenchantment has plenty of cartoonish violence and crude humour to keep Rick and Morty fans happy with plenty of heartfelt and exciting storylines to back it up.
Rather than seasons, Disenchantment has 'parts' each made up of 10 episodes. The first three parts have already been released and part four will be released in February 2022. You can watch the whole thing over on Netflix.
Archer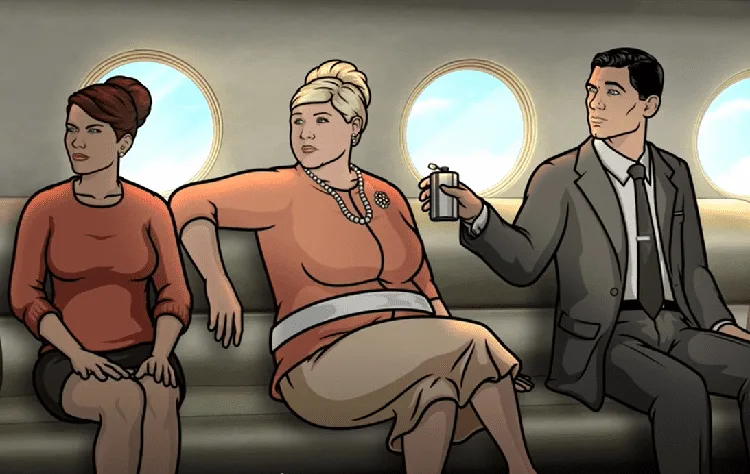 If you're after TV shows like Rick and Morty, you surely enjoy plenty of meta-comedy, quickfire dialogue, and dark humor, right? If that sounds like you, why not give Archer a go? Adam Reed's spy parody adult animation has all the humor and action of Rick and Morty.
Archer stars H. Jon Benjamin (Bob's Burgers) as Archer, a narcissistic and childish spy at his mother Malory's (Arrested Development's Jessica Walter) spy agency.
The series also stars Aisha Tyler as the talented agent Lana, Rick and Morty's Chris Parnell as awkward accountant Cyril, and Judy Greer as psychotic and snobby receptionist Cheryl Tunt.
Archer has a Cold War-style setting and often fits the spies against the KGB and figures Archer as a satirical James Bond.
The animation style also reflects the show's mid-20th-century setting. With brutal humor, plenty of action scenes, and rapid dialogue that throws in pop culture references so quickly that you'll blink and miss them, Archer is one of the best animated comedy series you can watch.
Archer has 12 seasons and there are more to come. You can watch them all on Hulu.
The Venture Bros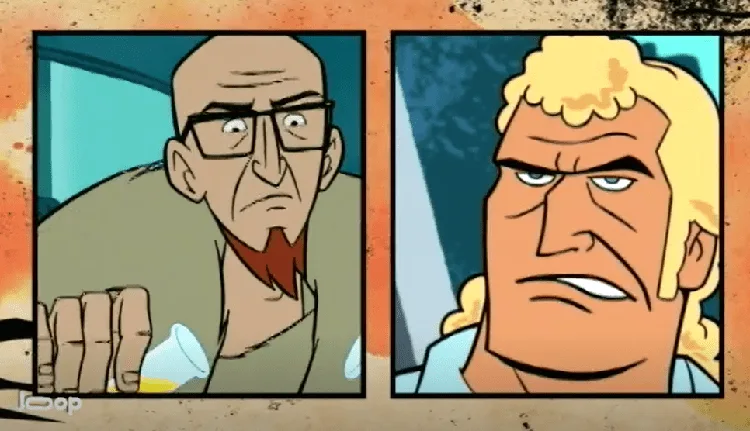 Another Adult Swim hit, The Venture Bros. is perfect watching for anyone after more shows similar to Rick and Morty. Created by Christopher McCulloch (a.k.a. Jackson Publick) and co-written by Publick and Doc Hammer, The Venture Bros. was one of the longest-running shows on Adult Swim.
The Venture Bros. surrounds twins Hank and Dean (McCulloch) along with their super-scientist father Rusty Venture (James Urbaniak) and family bodyguard Brock (Patrick Warburton – whose voice you may recognize as Kronk in The Emperor's New Groove or Lemony Snicket in A Series of Unfortunate Events).
The Venture Bros. combines sci-fi action with comedy and has been praised for its serial comedy style (similar to shows like Arrested Development).
The Venture Bros. ran for 7 seasons. You can watch them all on Adult Swim or Hulu.
Honorable Mention: Community
So this list focuses on adult animation shows like Rick and Morty, but no 'shows like Rick and Morty' list is complete without an honorable mention for Community. Created by Rick and Morty's creator, Dan Harmon, Community is a revered sitcom with cult status.
Community follows the lives of a group of community college students who form a study group – Jeff (Joel McHale), Britta (Gillian Jacobs), Abed (Danny Pudi), Shirley (Yvette Nicole Brown), Annie (Alison Brie), Troy (Donald Glover), and Pierce (Chevy Chase).
The series also features Ken Jeong as unstable Spanish teacher Ben Chang and Jim Rash as the college's dean.
Community is packed with meta-humor, pop culture references, and plenty of satire. Always quick-witted and paying homage to film and TV, Community has earned cult status over the years. It ran for six seasons and you can watch it on Netflix and Hulu.
FAQs
Question: Where Can I Watch Rick and Morty?
Question: Is Rick and Morty on Netflix?
Answer: No. Unfortunately, Rick and Morty isn't on Netflix in the United States. The first three seasons of Rick and Morty are available on Netflix UK.
Question: Will There be a Rick and Morty Season 6?
Answer: Yes! Rick and Morty was renewed for over 70 episodes in 2018, which includes season 6. We're hoping to see season 6 in summer 2022.
Question: What is Rick and Morty Based On?
Answer: Rick and Morty came from a short parody film of the 1980s classic, Back to the Future. Rick and Morty parody Doc and Marty respectively, but the show also has ties to other sci-fi series like Doctor Who and The Hitchhiker's Guide to the Galaxy.