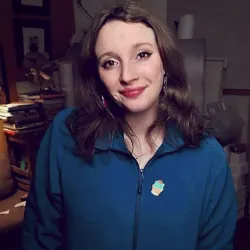 Latest posts by Emily Rowe
(see all)
Ted Lasso has taken the world by storm. With its first season being nominated for 20 Primetime Emmys and taking the best comedy series and several acting wins at the Emmys, Ted Lasso has been one of the quickest comedy hits ever.
And it's no surprise. Ted Lasso artfully combines comedy with heartfelt storylines, unrelenting optimism, and charming characters. I've already binged it twice and writing about it now makes me hanker for a third rewatch.
Available on Apple TV+, Ted Lasso is two seasons strong and has been renewed for a third. Ted Lasso stars Jason Sudeikis as an American football coach who is hired to coach an English soccer team, despite having no experience playing or coaching soccer. Ted Lasso's optimism and charm are at first at odds with the English team, but he soon wins them over.
Now that we're waiting for season three of Ted Lasso, many of us are looking for some heart-warming, feel-good comedy to replace it. If that sounds like you, you've come to the right place. This list of my ten favourite feel-good TV shows like Ted Lasso has something for everyone.
GLOW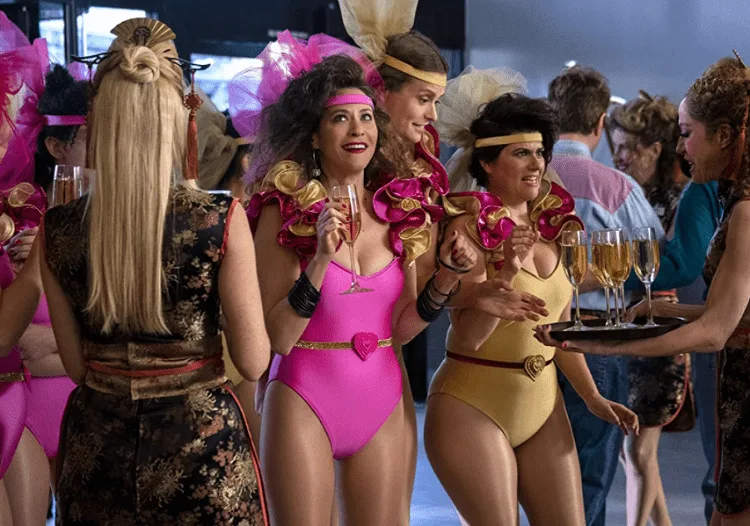 If you're after a show that combines sport, an ensemble cast, and feel-good storylines, GLOW could be your next addiction.
Set in 1980s Los Angeles, GLOW stars Alison Brie (who you may already know as Annie in Community) as Ruth, a struggling actress.
Ruth auditions for a women's wrestling TV show known as the Gorgeous Ladies of Wrestling (GLOW) and the series follows the successes and failures of Glow along with the lives of the many women on the show.
GLOW is perfect for anyone looking for shows like Ted Lasso – and not only because it also involves sports. Like Ted Lasso, GLOW combines comedy with heart-wrenching storylines, high tension, and moving drama.
With a diverse ensemble cast that celebrates difference and subversive characters. Plus, if you love the 1980s, you'll adore the spot-on details of GLOW.
GLOW is available on Netflix and has three seasons. Unfortunately, the final season was canceled ahead of production in 2020 – but that's no reason not to indulge in this delightful comedy-drama series.
Superstore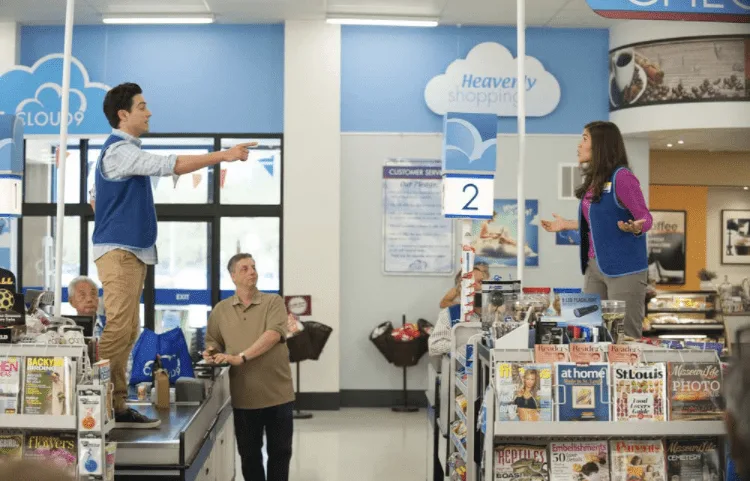 Ted Lasso is, in many ways, a workplace comedy series – so expect to see a few workplace comedies on this list. Fans of Ted Lasso will find plenty to love in the heart-warming comedy series, Superstore.
Superstore stars America Ferrera (who you may remember playing the titular role in Ugly Betty) and Ben Feldman (who in my mind will always be Michael Ginsberg in Mad Men) as two employees at a fictional big-box superstore in Missouri called 'Cloud 9'. Superstore is another ensemble show and follows the lives of Cloud 9's staff, from overly positive store manager Glenn (Mark McKinney) to pregnant high school student Cheyenne (Nichole Sakura).
Superstore is a delightful workplace comedy that anyone looking for TV shows similar to Ted Lasso will binge. Originally released by NBC, all six seasons are available at nbc.com.
Cobra Kai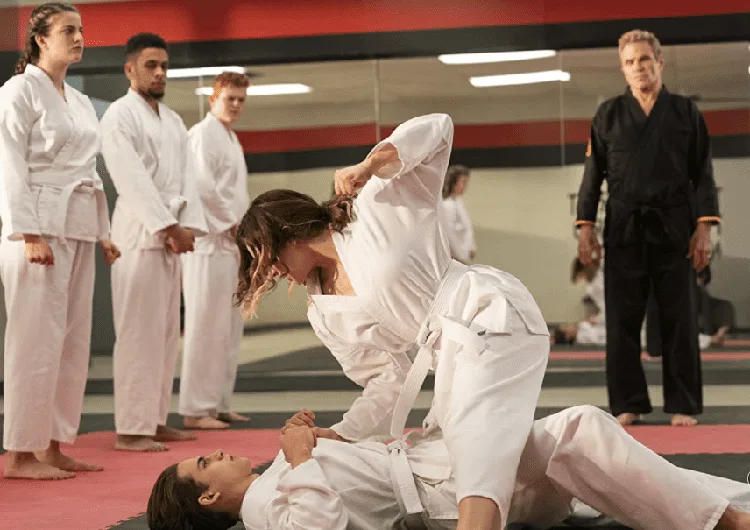 If you're after shows like Ted Lasso that blend sports and comedy, why not try Cobra Kai? This sequel to the Karate Kid movies stars Ralph Macchio and William Zabka, reprising their roles as Daniel and Johnny from the original movie series.
Cobra Kai is set over thirty years after the events of The Karate Kid and centers on Johnny, the antagonist of The Karate Kid who was defeated by Daniel at the 1984 All-Valley Karate Tournament. Now in his 50s and working as a handyman, Johnny decides to open a karate dojo.
The series follows the lives of the kids who join the dojo and Johnny and Daniel's relationship decades on from their rivalry.
Not only is Cobra Kai a sports-infused comedy like Ted Lasso, it has all the heart and warmth too. Filled with nostalgia for fans of the original Karate Kid movies and ensuring plenty of emotion and well-written characters alongside its gleeful comedy, Cobra Kai is perfect if you need a feel-good TV show to watch.
Cobra Kai started off on YouTube but was dropped in 2020. Luckily, Cobra Kai was picked up by Netflix and was renewed for a fifth season in 2021. That means you have four seasons of Cobra Kai to binge on Netflix and at least one more season to come.
Scrubs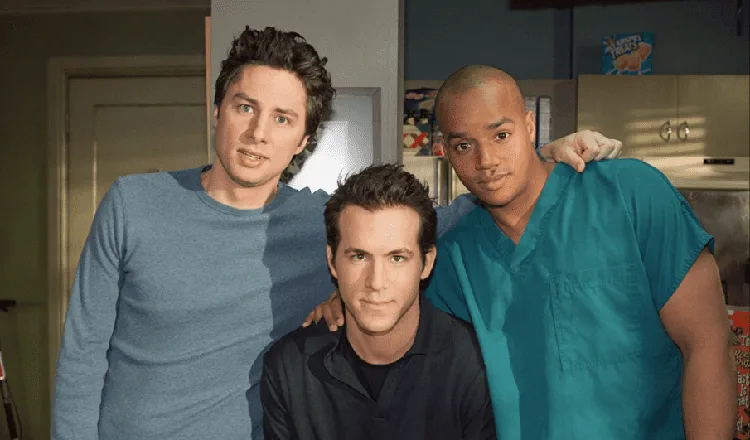 The original workplace comedy, Scrubs paved the way for TV shows like Ted Lasso. Oh, and it was also created by Ted Lasso creator Bill Lawrence.
Scrubs started in 2001 and ran for nine seasons, including the spin-off season, Scrubs: Med School.
Set in a fictional hospital, Sacred Heart, Scrubs follows the lives of the hospital's staff, doctors J.D. (Zach Braff) and Elliot (Sarah Chalke), surgeon Turk (Donald Faison), and nurse Carla (Judy Reyes). The show is narrated by J.D., whose narrative is interlaced with his surreal daydreams.
Like Ted Lasso, Scrubs is a perfect blend of comedy and heart. With serious storylines blended with slapstick and romance, Scrubs won the hearts of many watchers in its nine-year run. Scrubs is currently available on Hulu and Amazon Prime and has plenty of episodes to sink your teeth into while you wait for season three of Ted Lasso.
Parks and Recreation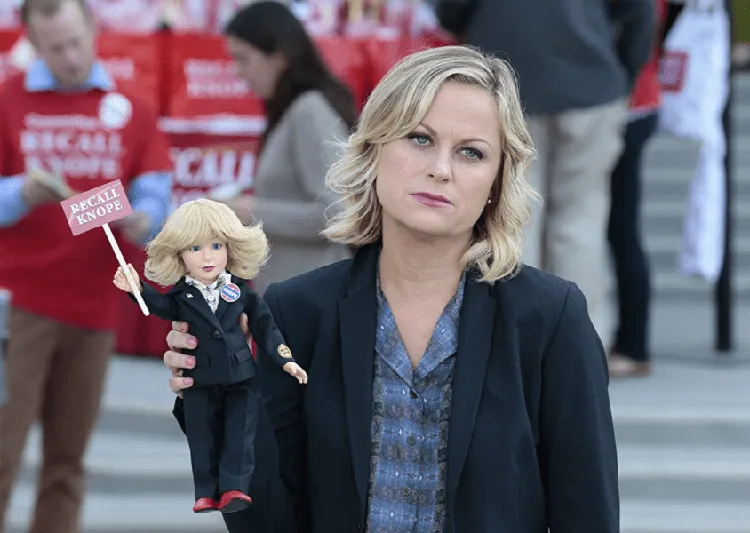 If you were to look up 'light-hearted workplace comedy' in a dictionary, you'd find Parks and Recreation. This mockumentary aired on NBC for seven seasons and was created by Greg Daniels (The Office) and Michael Schur (Brooklyn 99, The Good Place).
Parks and Recreation is set in the fictional town of Pawnee, Indiana and follows the work and lives of employees of the town government's Parks and Recreation department.
Starring SNL veteran Amy Poehler as Leslie Knope, an endlessly perky but ambitious bureaucrat, Parks and Recreation is another ensemble cast show with standout characters including Nick Offerman's Ron Swanson and Chris Pratt's Andy Dwyer.
If I had to sum up Parks and Recreation in three words, I'd say: wholesome, hilarious, and heart-warming. The first season is often regarded as a weak start, but stick with it and you'll be delighted with the second season onwards.
You can watch all seven seasons of Parks and Rec on NBC's streaming platform, Peacock.
Friday Night Lights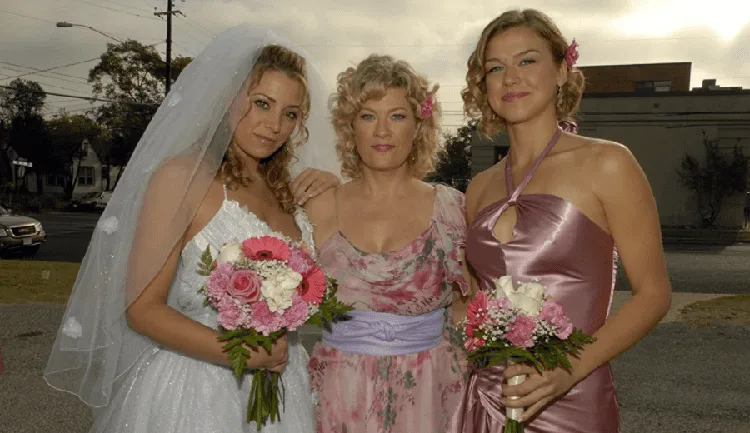 If you want a show like Ted Lasso that features football of the American variety, Friday Night Lights could be the show for you. It's a drama, not a comedy, so don't expect to find quite as many laughs here, but you can expect excellently written characters, plenty of drama, and endless entertainment.
Starring Kyle Chandler and Connie Britton as Eric and Tami, a high school football coach and teacher at a school in Texas, Friday Night Lights covers lots of hard-hitting topics, including racism, drug use, and abortion. It also has a passionate fan base who still celebrate the show years after the final season aired in 2011.
Friday Night Lights ran for five seasons and you can watch all of them on Hulu.
The Office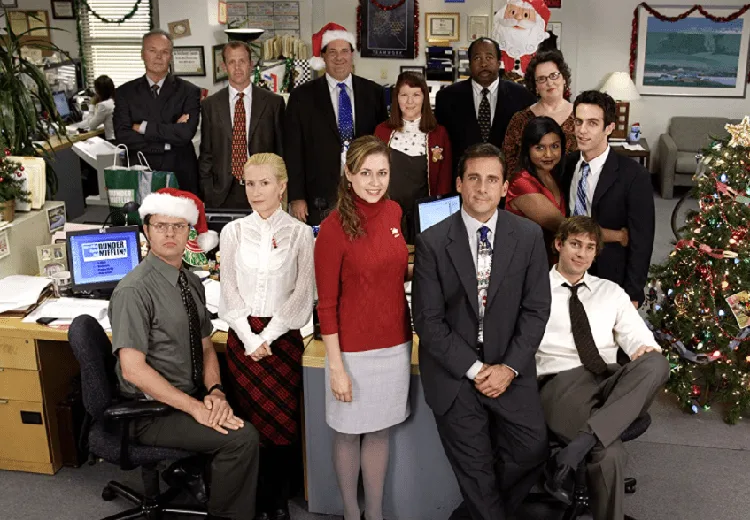 The American version of The Office is one of the most-loved comedy series of all time. Fans of Ted Lasso will love the heart-warming storylines of The Office, perfectly balanced with its cringe comedy.
Adapted from the British TV series of the same name by SNL writer Greg Daniels, The Office is a mockumentary series that follows the lives of employees at a Pennsylvania branch of a fictional paper company, Dunder Mifflin. The Office stars Steve Carrell as the office's well-meaning but socially ignorant manager.
Alongside Carrell, The Office has an ensemble cast of characters made up of actors known for their improv chops.
Combining cringeworthy and at times brutal humour with heartfelt depictions of the lives of its characters, The Office has devoted fans who rewatch it over and over again. The Office ran for nine seasons and you can watch it on Peacock TV.
If you already know and love The Office, check out our list of the best shows like The Office.
Mythic Quest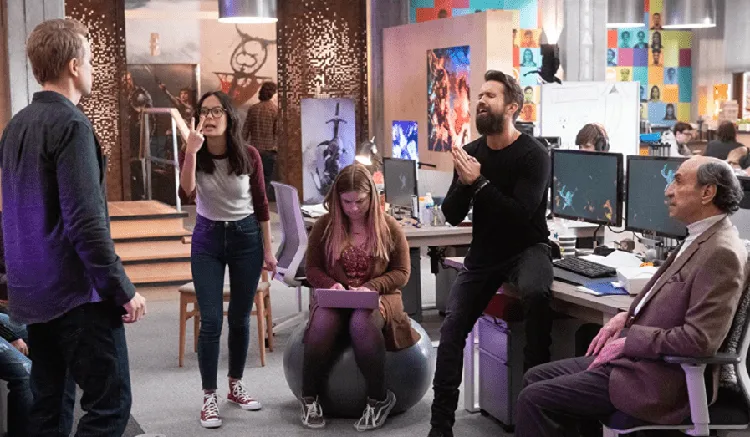 If you already have Apple TV+ for watching Ted Lasso, it's time to watch Mythic Quest. Mythic Quest is created by Megan Ganz, Charlie Day, and Rob McElhenney – those last two are Charlie and Mac in Always Sunny in Philadelphia. The series first came out in 2020, has two seasons so far, and has been renewed for a third.
Moving from physical sports in Ted Lasso to the world of online gaming, Mythic Quest centers on a fictional game studio that creates Mythic Quest, an MMORPG (a massively multiplayer online role-playing game – think World of Warcraft).
Just like you don't need to know anything a football to get into Ted Lasso, there's no need to be a gamer to enjoy Mythic Quest.
If you enjoy sentimental workplace comedies like Ted Lasso, you'll find plenty to love in Mythic Quest. Sharply written, hilarious, and feel-good, Mythic Quest can fill that Ted Lasso-shaped hole in your life.
The League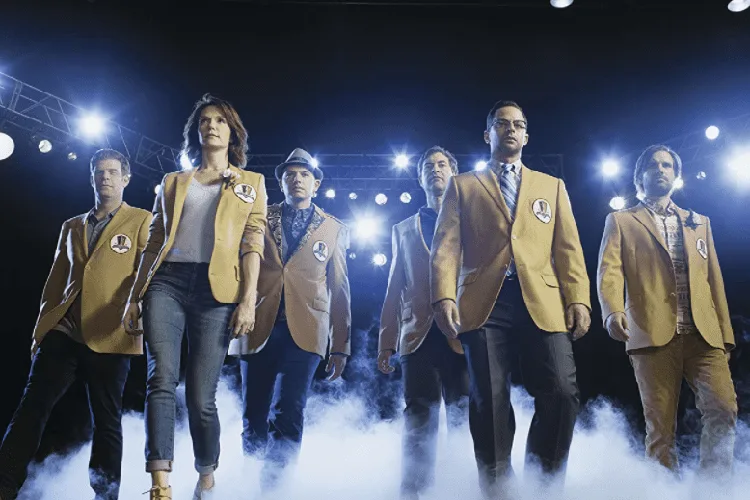 The League has sports, comedy, and heart-felt storylines – plenty for fans of Ted Lasso to latch on to. The League follows a group of friends who compete in a fantasy football league.
Starring Mark Duplass (The Mindy Project, Big Mouth), Stephen Rannazzisi, and Nick Kroll (Kroll Show, Big Mouth), The League has sharp and silly humour that will suit anyone looking for shows like Ted Lasso.
The League is often improvised and relies upon the great chemistry of its main characters. It doesn't have as much heart or drama as Ted Lasso, but it is laugh-out-loud funny and perfect if you want a light-hearted TV show to stick on tonight.
The League ran for seven seasons and they're all available to stream on Hulu.
Brooklyn 99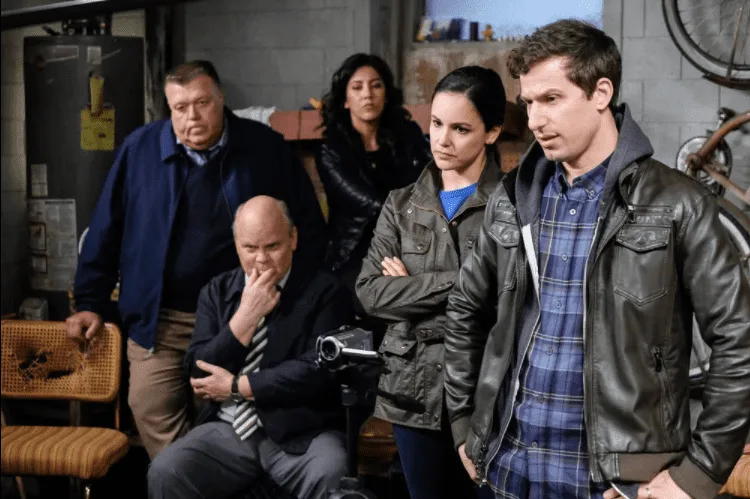 Another feel-good workplace comedy with an entertaining ensemble cast, Brooklyn 99 is a great alternative if you're in need of TV shows like Ted Lasso.
The series revolves around the employees of the NYPD in Brooklyn's 99th precinct and stars Andy Samberg as the immature but talented detective, Jake Peralta. Brooklyn 99 has a ton of fantastic characters, but Andre Braugher as Raymond Holt and Chelsea Peretti as Gina Linetti are standouts.
Brooklyn 99 is sharply written and full of wit and charm. Braugher and Samberg's chemistry as the stern police captain and the juvenile detective is especially praiseworthy. If you're in need of another heartwarming comedy series like Ted Lasso, Brooklyn 99 ticks all the boxes.
Brooklyn 99 ran for eight seasons, concluding in 2021. You can binge it all on Hulu.
Our list of the best shows like Brooklyn 99 has even more light-hearted comedies for you to check out.
FAQs
Question: Why is Ted Lasso so Popular?
Answer: Ted Lasso aired on Apple TV in August 2020. Not only were many of us stuck at home for most of 2020 and 2021, many of us were also in need of a comforting, feel-good TV show. But timing wasn't everything.
Ted Lasso is well written, brilliantly acted, and truly charming. It arrived at a time when many of us needed its relentless optimism, but it also stands alone as a fantastic TV show.
Question: Where Can I Watch Ted Lasso?
Answer: Ted Lasso is only available on Apple TV+. That means you can't watch it on Netflix, Amazon Prime, or any other streaming platform – you'll need an Apple TV+ subscription.
Question: When is Ted Lasso season 3 Coming Out?
Answer: Production is starting for Ted Lasso's third season in February 2022 and is expected to be released later in 2022. Seasons one and two aired in August 2020 and July 2021, so based on that I hope we'll get season three by the end of this summer.
Question: Is AFC Richmond a Real Soccer Team?
Answer: AFC Richmond is a fictional soccer team. Ted Lasso is hired to coach AFC Richmond, an English premier league soccer team – but they are not a real team.
Question: Where is Ted Lasso Filmed?
Answer: Ted Lasso is filmed in the U.K., primarily in London including the real London boroughs of Richmond and Twickenham.
AFC Richmond's home stadium is actually Selhurst Park, the real-life home stadium of the premier league soccer team, Crystal Palace F.C. Other real English soccer stadiums featured in the show include Wembley Stadium, Craven Cottage, and Goodison Park.