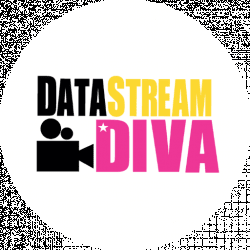 Latest posts by Data Stream Team
(see all)
On a beautiful autumn day in 2001, the sitcom Scrubs  premiered on NBC…It's been almost 20 years. Therefore, I recommend many of you to sit back for a few seconds and think about that, because we know that it can be quite a nostalgia-blow. However, I've always been a huge Scrubs fan of the show, and I still am.
So, let's play that banjo intro in our heads and "Eagle" away. Everyone knows that there hasn't been even a handful of network comedies that kept a cultivated mass following of dedicated viewers, especially over such a long period. Many in this genre lose their wit after a few seasons and others just can't find their exact target audience, thus falling into the silver screen oblivion.
Because comedy is rough, unforgiving, and often cruel with artists. If they play it too safe, things turn out bland and forgettable. If they go too strong, perhaps only a small niche part of the viewers will appreciate it for a short amount of time. So, finding the perfect balance while innovating the scene can be mind-breaking.
Scrubs did it from day one, blending an abstract, almost meta style of comedy, with true and emotional drama. It required the perfect cocktail of spot-on writing, brilliant acting, and critical editing. This combination was and still is a rare gem, that's why the show's legacy continues far past its finale. So why was Scrubs so special? What was in the secret sauce?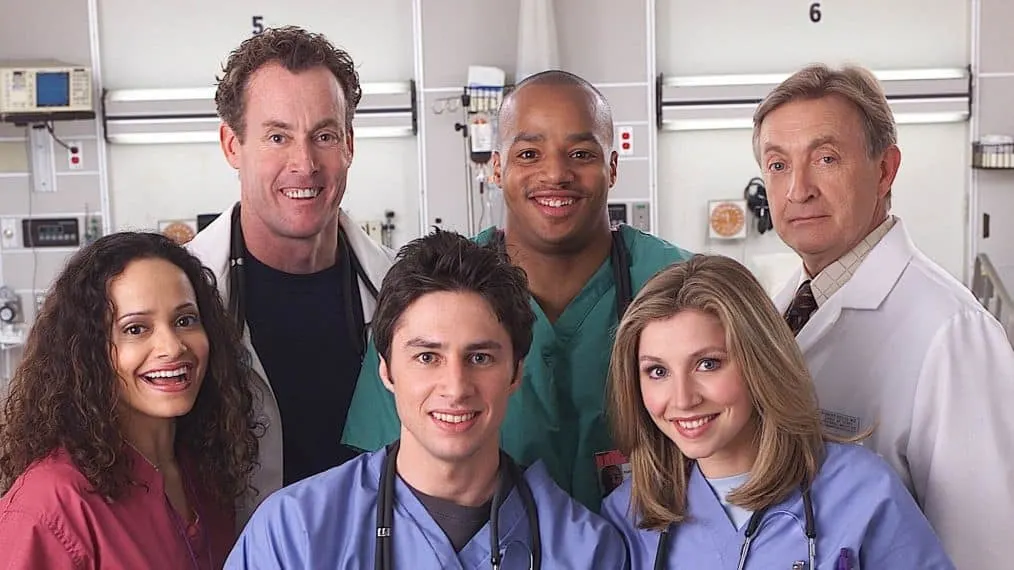 We've got some theories about medical shows. So let's start with one of the most memorable here.
Many comedies seem to have the funniest actors or a duo of pals as a "Leitmotiv", who get into various kinds of mischief and who you instantly get attached to, for the sake of sticking to the show. But there is just something so special about these protagonists, J.D. and Turk.
Played by Zach Braff and Donald Faison, these two characters are each so unique, and richly written as complex, flawed, and lovable doctors just trying to figure out how to adult. This relationship works especially well because they start as the unlikely odd couple and because there is a workplace comedy.
Christopher Turk is the macho, jock surgeon who could smooth-talk like it was his profession, while John Dorian, or J.D., is a sensitive, silly, sometimes awkward intern with a passion for Internal Medicine. J.D. yearns for a mentor, while Turk strives to be a surgical superhero. But despite their differences, the two forge an unbreakable friendship, dating all the way back to their college days.
The friendship only grows as each season progresses, and the genuine love these two fake doctors have for each other is felt by viewers of all walks of life. We all want a platonic love like J.D. and Turk. And many of you know that some of Scrubs' most quotable characters are the men (unlike Meredith in the medical drama Grey's Anatomy). From the oddball Janitor to the vicious Dr. Cox, too crabby Dr.Kelso, the guys are really quirky and hilarious, that is undisputed.
But Scrubs is certainly not just a boy's club. Judy Reyes's Carla, Sarah Chalke's Elliot, and Jordan played by the fast-paced Christa Miller, can hold their own in the hospital.

These women each bring their own heart and hilarity to the bizarre mix of medical friends. They remind us that prominent female characters can be flawed, hilarious, and substantial.
With a bromance like Turk and J.D.'s and a mentor like Perry Cox, it would be easy for the show's writers to do like so many before them and employ female characters strictly as romantic props or token "eye candy," but instead, Scrubs delved deep into the hearty backstories of these women, making them relatable, accessible, and best of all, imperfect.
It's just one of those unique shows that makes you laugh till your sides ache, and cry till your head hurts. Just as it's impossible to choose the most hilarious Scrubs moment, it's also too difficult to narrow the dramatic scenes down to a favorite gut-wrencher.
There's something so intricate about balancing comedy and drama in a sitcom – length television show. But this balance is exactly what reveals the skill level of the Scrubs team. It's no wonder fans can rewatch the series over and over again. Scrubs reintroduces you to the full spectrum of your feelings, making it a great go-to when you're feeling down or moody.
Nonetheless, for those who have never fallen in love again with another comedy and are trying to move on, here are 11 other unique and enticing shows you can watch on Netflix, Amazon Prime, or Hulu.
1. M*A*S*H
Alright, we'll admit that this first one on the list was unexpected. You may have your own list already made up inside your mind, and this "oldtimer" isn't even near it. However, this 1972's treasure was a big influence on Scrubs. It's a classic black comedy set during the Korean War that took an anti-war stance during a raw time in American political history.
Throughout the action, physical humor and dead-on wit keep the atmosphere light, though the ugliness of war pokes constantly through the façade. Besides having a medical background, the show also juggles between the humor and the real-life drama and pain. Thus connecting the viewer on a deeper and sensitive manner.
Where You Can Watch It:
You can find it on Amazon Prime.
2. The Fresh Prince of Bel-Air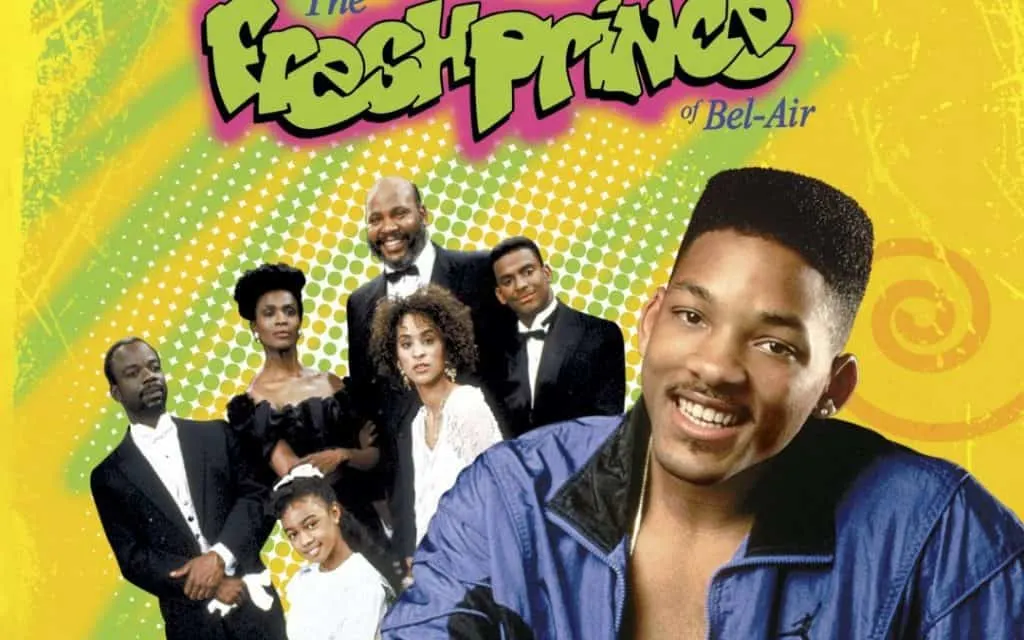 Keeping emotions connected to the fine art of comedy, here's one of the 90's favorite. This light-hearted, feel-good sitcom is about a streetwise teenager from Philadelphia who throws the seven life of his well off relatives for a loop when he goes to live with them in Bel-Air.
As Will assimilates into his new surroundings, he learns about the good life and adapts to the Banks' carefree lifestyle, and also teaches his rich relatives that life isn't all about how much money you have in the bank.
This show not only trampolined the until then rapper Will Smith, but it also stepped forward to showcase us delicate dilemmas about race, wealth and dissertation, leaving viewers with a powerful lesson on how to live life with dignity and grace. So if you like your Sunday breakfasts with a good and funny sitcom, make sure to have a box of tissues around… just in case.
Where You Can Watch It:
This show is available on Netflix.
3. The Office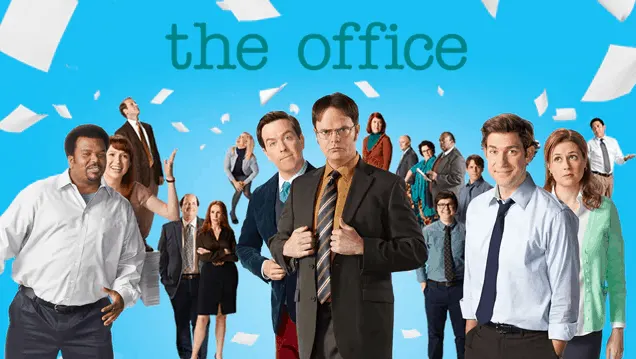 Sticking to the American version, this mockumentary series, created by the fantastic Ricky Gervais, covers the 9-to-5 antics at a Pennsylvania-based paper company branch, where there isn't a lot of actual work getting done.
Although having incredible bright and colorful characters, some viewers might find it difficult to adapt to this series' painfully intentional awkwardness, but for those who stick around, it's well worth the investment.
It's just rewarding to see wannabe manager Dwight, who runs the family beet farm when he's not functioning as the office hall monitor; cat-loving accountant Angela, Dwight's former office flame; and everyman Jim, an underachieving sales rep who's in love with his co-worker Pam. As much as the original version, this one stands the test of time and will be always loved by a very dedicated and faithful audience.
Where You Can Watch It:
The show is available on Amazon Prime.
4. Parks & Recreation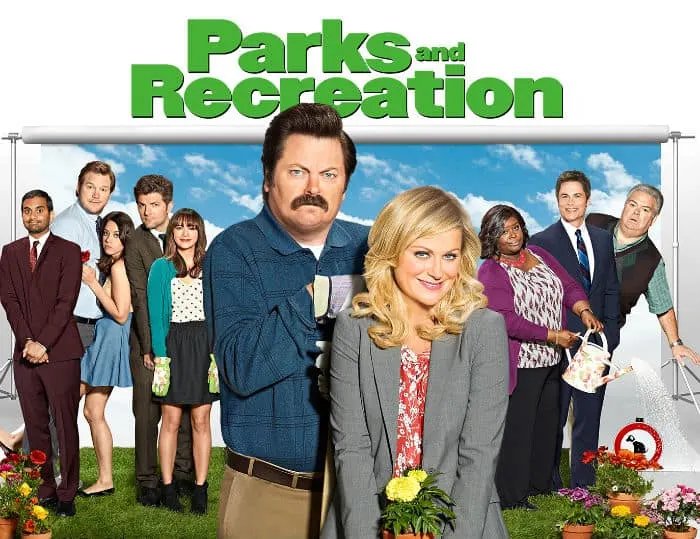 If you haven't had enough with the work environment mockumentary humor, well, then we have one must-watch show for you. In Parks and Recreation, an unseen camera crew documents the efforts of Leslie Knope, idealistic parks and recreation official working for the town of Pawnee, Ind., to change her community for the better. But her efforts are often hampered by her own incompetence.
The show's first season was funny, if not rolling-on-the-floor hilarious, but alongside the protagonist, this character-driven comedy gets better with time once audiences are more familiar with the players involved and come to embrace their quirks and foibles. Get ready for a goofy, clever, and ultimately, full of heart timepiece of modern television.
Where You Can Watch It:
The show is available on Apple TV.
5. Flight of the Conchords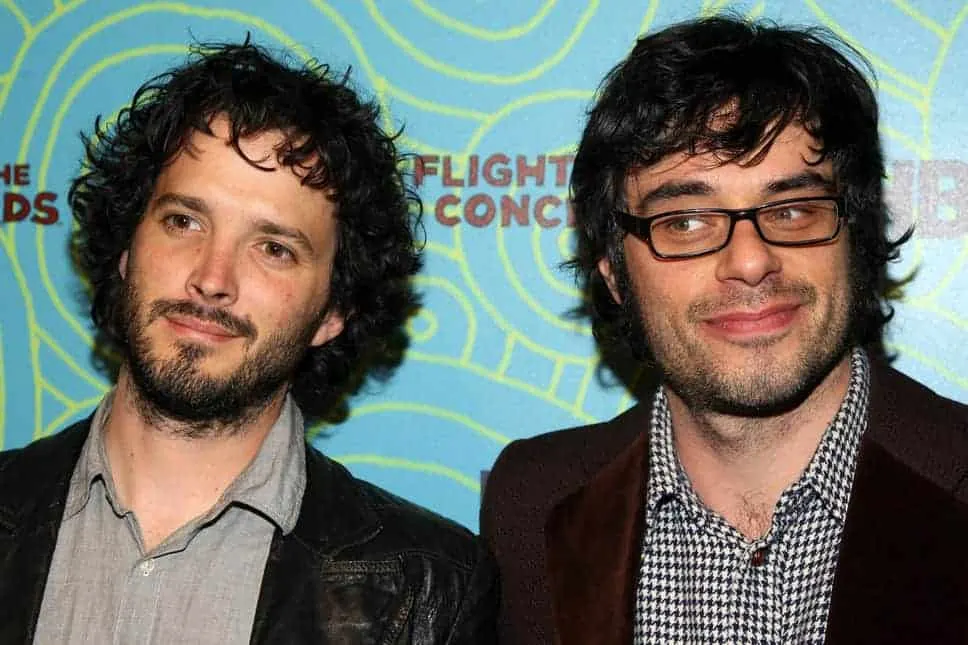 Continuing with the odd and the bizarre, we immediately fall into the hands of the Flight of the Conchords. New Zealand music/comedy duo Bret McKenzie and Jemaine Clement play themselves: Two helpless Kiwi musicians who've just moved to New York City hoping to make a name for their band.
After turning their real band into the show, both musicians garnered a cult following thanks to their hilarious performances at comedy and music festivals all around the world.
The secret ingredient for their success is their representation of these two rather brainless-but-quite-charming guys as they navigate single life while remaining committed and real friends and partners. With its clever writing, appealing characters, and a unique approach to comedy, the show attracted a well deserved loyal niche following.
Where You Can Watch It:
This series is available on HBO.
6. Fleabag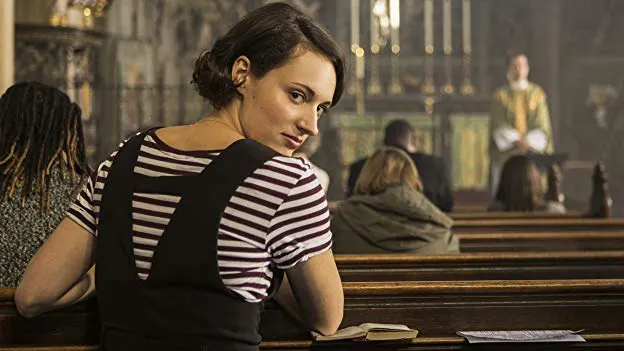 In this day and age, leaving Fleabag out is considered a crime, especially after coming from the previous misfits. Instead of two unsuccessful buddies, this dark British comedy is about a woman trying to pull her life back together after the loss of her best friend while she navigates the modern world of London.
This quirky, dark series, written and created by its star Phoebe Waller-Bridge, is a powerful story about a depressed, emotionally vulnerable woman who is looking for ways to cope with the broken pieces of her life.
The narrative style, which features Fleabag addressing audiences directly as events are unfolding, gives the show a creative flair that's enhanced by the strong writing and robust characters.
In between the lines of unapologetic wit and raunchiness is a strong undercurrent of sadness that invites audiences to view her situation with compassion. All of these details are what make Fleabag a well-crafted and complex series worth tuning in to. 
Where You Can Watch It:
This series is available on Amazon Prime.
7. Louie

On the other side of the troubled romantic spectrum, we have the sharp mind of the stand-up comedy legend, Louis C.K. Much like Fleabag, the comedian took some of his real-life events and turned it into a powerful and very realistic dark comedy.
Mirroring as well the struggles in a big metropolis, Louie finds himself in New York City, where he combines the comedian's trademark routines about his children, marriage, dating, and fame, with smartly written comedy sketches that often cover the full length of the episode.
Having in mind that the show's not only written and interpreted by the comedian but also produced, edited and directed – you can expect an honest and susceptible approach to the creator. From deadpan to absurd, and realistic to fantasy, watching the show Louie is like watching a beautiful dark painting that moves on your screen.
Where You Can Watch It:
You can find it on Vudu.
8. Dead to Me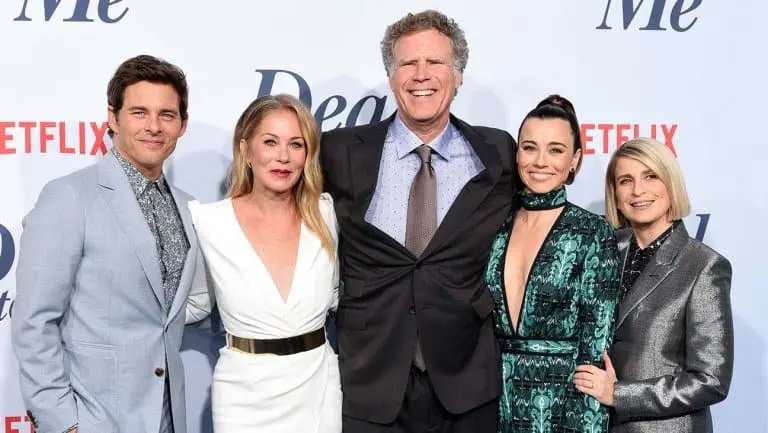 Moving away from the darker side of comedy, let's talk about a show a powerful friendship that blossoms between a tightly wound widow… and a free spirit with a shocking secret.
Singular and utterly captivating, this series will have viewers addicted both to the chemistry between leads Christina Applegate and Linda Cardellini and to the tingly suspense under the surface.
But it's more than just a twisty friendship mystery, it's also a look at a woman flattened by a very particular kind of grief, slowly learning to navigate her life without her husband. It's an odd mix of genres and plotlines to be sure. And it's so well-done and surprising that you'd better clear your schedule for it. 
Where You Can Watch It:
You can find this series on Netflix.
9. Arrested Development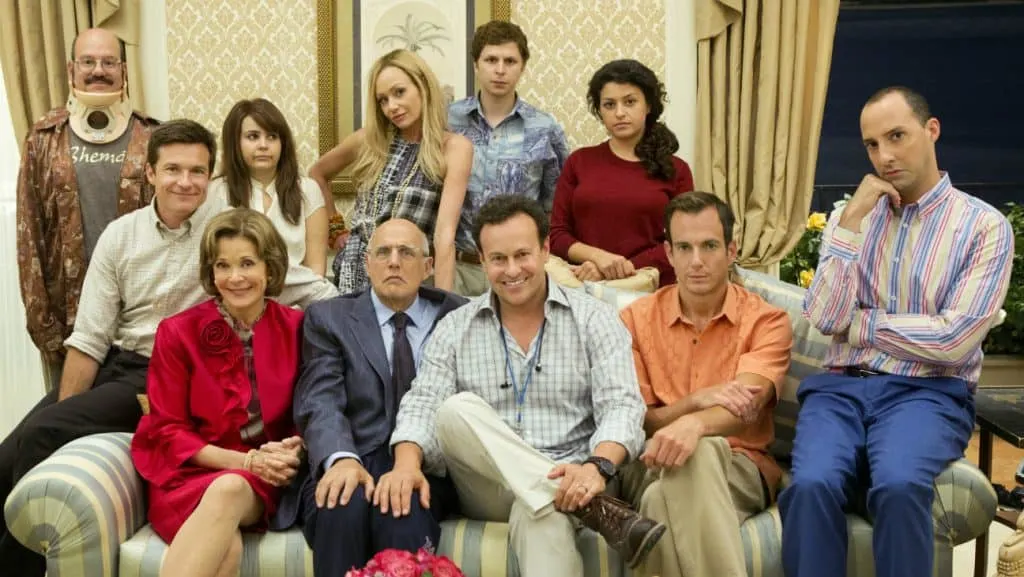 Going back to one of comedies icons, this show was rightfully the most critically acclaimed on television during its original run on Fox, from 2003-2006. The plot-lines are incredibly bizarre, unique, and hilarious. The acting is superb, and the direction allows for subtlety that isn't possible in a standard three-camera sitcom.
What's so great? You ask. Well, here's some context; when George Bluth is sent to jail for embezzling millions from the family's real estate venture capital firm, levelheaded son Michael takes control of the company and the family. He does his best to placate his perpetually drunk mother, Lucille, and his needy siblings: Buster, Gob, and twin sister Lindsay.
The rest of the family requires less of his attention but are as equally screwed up. His teenage son, George Michael, is in love with Lindsay's daughter, Maebe. And Maebe's sexually confused father, Tobias Fünke, is a "never-nude" who even sports cut-offs in the shower.
Where You Can Watch It:
You can find this series on Netflix.
10. Modern Family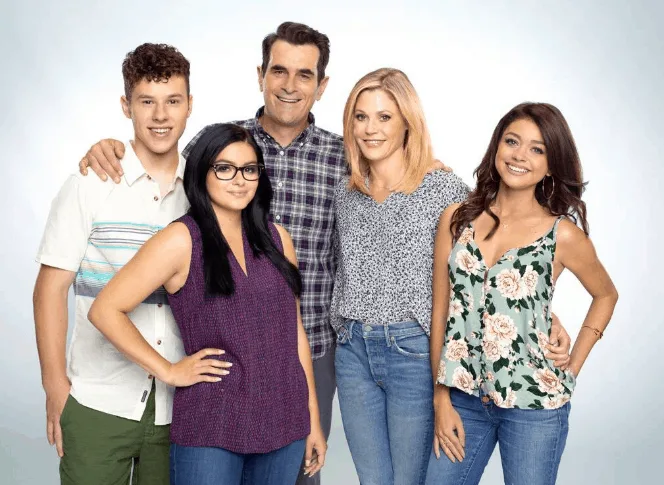 We had to continue with a show that has proven to play in the big-league, several times already. Similar to the chaotic family-driven Arrested Development, this TV series centers on the daily lives of three different but related families which are expertly scripted. The cast is superb. The character evolution is a thing of beauty, and it doesn't shy away from a down-and-dirty look at family life.
Balancing the good times and bad times just as Scrubs isn't always an easy task in a comedy. However, this series never disappoints and always ends on a heartwarming note that reflects the beautiful imperfection of family relationships.
At the same time, it offers a new take on the picture of the modern American family in its presentation of three very different, but equally loving, household structures.
Where You Can Watch It:
You can find Modern Family on Netflix.
11. That 70's Show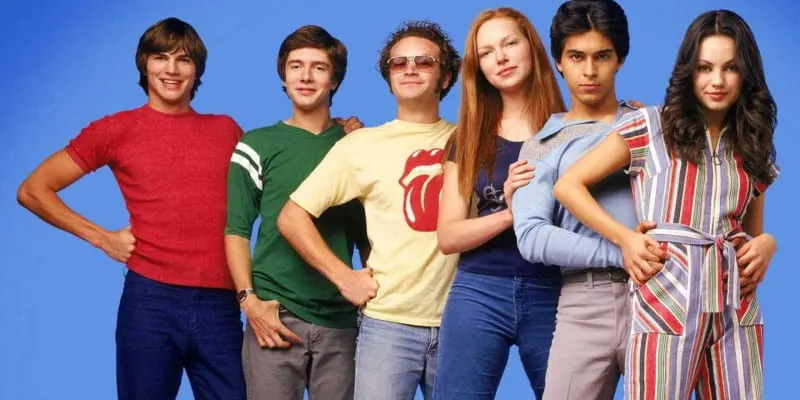 Keeping the family still as the main focus, with this one we'll have to go a bit back in time because That 70's Show is a comedy that depicts the lives of six teenagers in 70s-era Wisconsin.
Being this one yet another 90's classic, which makes this series so successful is its cast, all of whom seem comfortable with their stereotyped 70's roles.
The actors benefit from the show's strong writing, which is sometimes subtly political, but more often light in content. The result is an enjoyable trip back in time. Although the series has lots of sexual innuendoes, it's done in a way that doesn't so much offend as allude to the free-love period of the 1970s.
Further read:
FAQs About Scrubs
What are the best medical shows to watch?
Some of the best medical shows that include lots of interesting medical cases, romance, comedy, and good quotes include Grey's Anatomy, Dr. House, ER, The Night Shift, etc.
Why is Grey's Anatomy watched after so many years?
Grey's Anatomy is still running and it's all because the amazing characters they have created over the years, the lives the characters have lived, and the situations that have changed them over the years, all linked with excellent medical cases that have been a challenge for doctors worldwide, and people who have fought difficult diseases even though there were no good chances of that.
What is the most realistic medical show?
One of the most realistic medical shows will always be Scrubs because it shows the friendship between the doctors, their professionalism in dealing with patience and how well the staff is trained to deal with different types of patients and their loved ones.