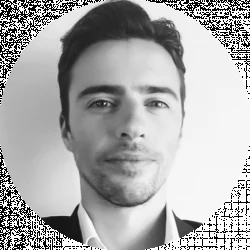 Latest posts by Roman Vogdt
(see all)
Readers of the British magazine Radio Times voted in 2015 on their favorite small screen moment of the year. The final list included 32 moments, from talent show performances to Doctor Who speeches.
However, the winner was one that had haunted the nation since its very first broadcast: the sight of Aidan Turner mowing a field shirtless in the first season of Poldark.
That scene alone served to launch the series, the second adaptation of Winston Graham's novels, as a fan phenomenon worldwide. Each new season on the BBC is analyzed and commented on every social media platform, and fans are even making their own merchandising (especially wool dolls).
Best Shows Like Poldark – Our Top Choices
Let's take a closer look at the secrets of Poldark's success and what shows you can watch if you're hungry for more.
What Poldark is All About
A New Return
Over 9.5 million people in the UK alone were glued to their TV sets for the premiere of the first season of Poldark, a period drama set in the 18th century.
But first, for those who have never even seen the show, we shall start at the beginning. Ross Poldark (Aidan Turner) is a British soldier who, having spent three years fighting in the American Revolutionary War, returns home exhausted and eager to change his life.
His home is in Cornwall, a region of England with a distinct personality of its own, in a village where his family was highly regarded. However, as soon as he sets foot there again, he discovers that his father is dead and has left him nothing but debts.
The surprises don't end there for him. His childhood sweetheart, Elizabeth (Heida Reed), is engaged to a cousin of Poldark and, one day, he meets a boy in town who is actually a girl, Demelza (Eleanor Tomlinson), who has run away from her father's beatings, so Ross offers her a job as a maid in the kitchen.
As if all this were not enough, there are some copper mines that are part of his father's inheritance and that George Warleggan (Jack Farthing) covets, so the protagonist will have to avoid losing them even if debts beset him.
The Plot and Characters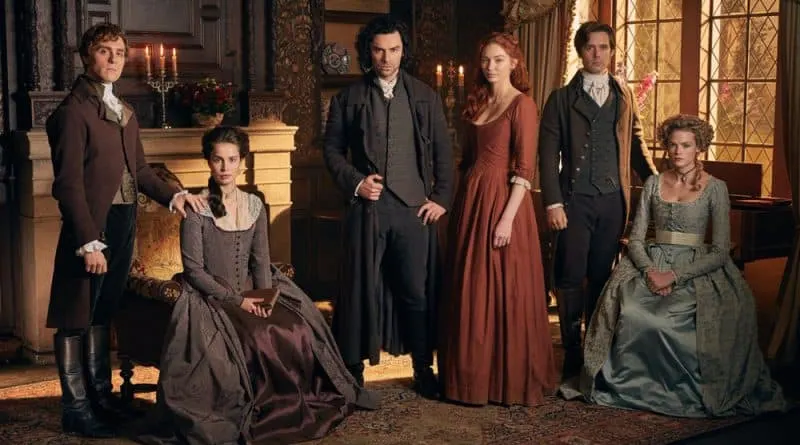 The Perfect Hook
Poldark has all the ingredients to catch the viewers' attention. There are soap opera love stories and heartbreaks, a story of self-improvement, ambition, action, friendship, conspiracies, rivalries, misery and wealth, class struggle?
And when we talk about characters and their actors, then it is clear that the 43 chapters of the show carry a fine supporting cast.
Of course, our three main characters Aidan Turner, Eleanor Tomlinson, and Jack Farthing, are present in all of them. Still, they are accompanied by Beatie Edney, Tristan Sturrock, Luke Norris, and Gabriella Wilde.
Throughout the seasons, stories intertwine, and characters grow more robust, bringing out the excellent cast's talents and abilities. This is especially noticeable in the third season when the love affairs become more intense between the most loved or loathed characters.
The Magnet Effect of Our Protagonist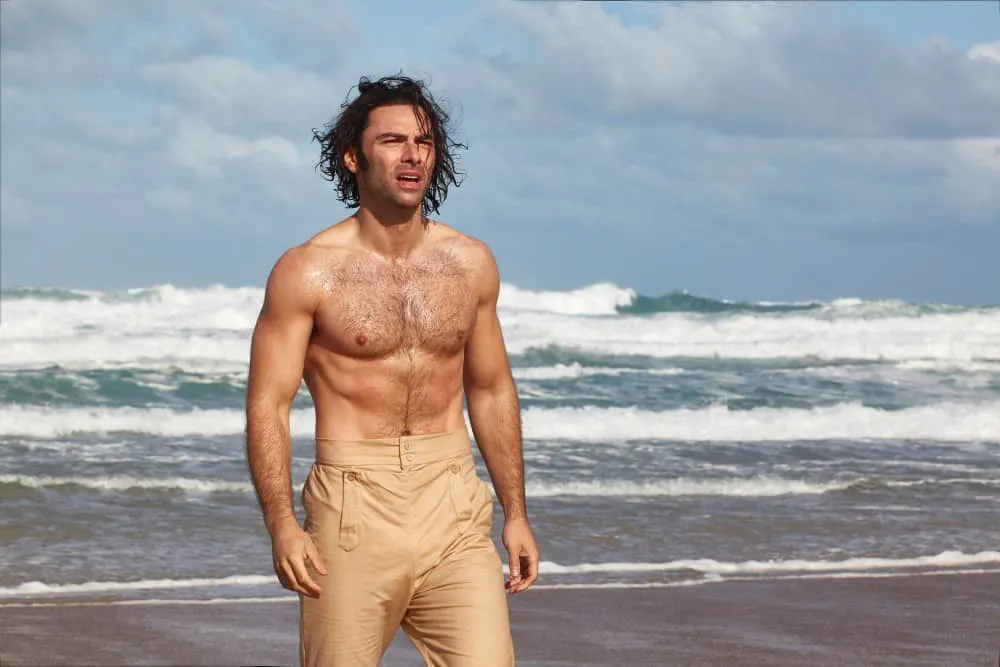 With or Without Shirt
If the actor Aidan Turner managed to make Evangeline Lilly fall in love with him in The Hobbit trilogy, being a dwarf and her an elf, what wouldn't he achieve in Poldark wearing his famous jacket… or without it.
But even if the actor so indiscreetly became a global sex symbol, the truth is that Aidan Turner has fit perfectly into his character. Together, they create an aura around the other characters and in front of the camera, which shines throughout each episode and has elevated Ross Poldark's character as the show's absolute essence.
A Successful and Fruitful Literary Saga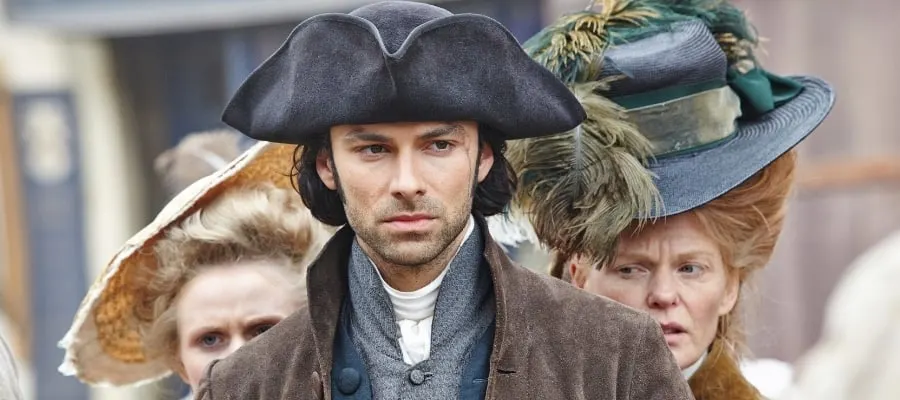 That Promises Much More to Come
First came the novel and then its television adaptation. Like many British period shows, this drama set in the 18th century draws directly from literature. The writer Winston Graham began in 1945 what would become the literary saga of his life with Ross Poldark.
This title would be followed by eleven more highly successful titles, published for more than 50 years. The last of these, Bella Poldark, was published in 2002, a year before the author's death.
Poldark is a novel, which begins in 1783 with Ross Poldark and the first generation of characters and continues until 1820 with the subsequent ones, feeding on fathers and sons' stories.
This literary success, along with the success of the series, promises that we will see a lot more of the world they have created, which can only be good news, even if it is a spinoff.
A Revamped Remake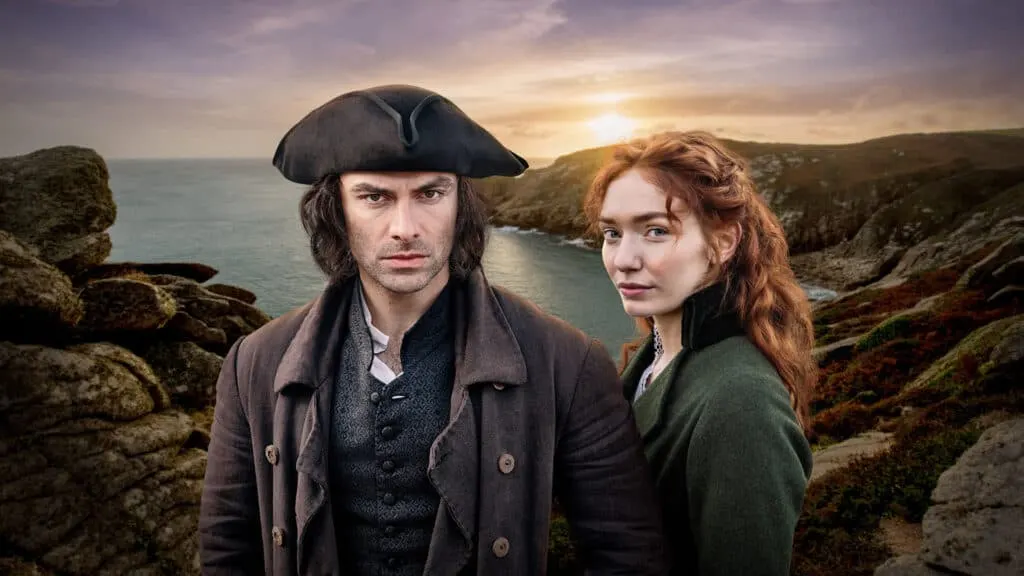 History Speaks For Itself
If the Poldark novels were a success, the 1975 adaptation for the BBC was a genuine mass phenomenon. So much so that in the UK, some vicars went so far as to change the mass schedule for fear of running out of parishioners, more interested in the adventures of Ross Poldark than in coming to their parish.
And the rest of the world was not immune to the Poldark virus: Demelza became the new fashionable name among girls born at that time.
The show did not disappoint. Premiering in 1975, it ran for two seasons with a total of 29 episodes, summarizing the seven novels published to date. This remake, which premiered with resounding success in 2015, remains faithful to the original series but adapting to the new times and the audience's desires.
Shows Like Poldark
Whether with more doses of action or with fewer yards of fabric. Okay, let us take a closer look at the most similar shows to our beloved Poldark. Here is a short list, which will fill you with spicy and exciting episodes throughout unbelievable plots!
Outlander
The Obvious First Choice
Many may refer to Outlander as their guilty pleasure, but this show goes beyond the satisfaction that Grey's Anatomy, for example, can give us. If we dig a bit deeper, we will be aware of the number of layers that we can unravel in this production created by Ronald D. Moore and based on Diana Gabaldon's novels.
In its pilot episode, we meet Claire Randall (Caitriona Balfe), a combat nurse living in the 1940s but who, unexpectedly, through Craig na Duhn's stones, travels back to Scotland in 1743. Where she is forced to marry Jamie Fraser (Sam Heughan), a Scottish warrior. This premise leads to a love triangle that travels through time.
From the beginning of the show, you will find it hard to position yourself with the British side. You will enter fully into the clans' world, the Jacobite revolts, Bonnie Prince Charlie, and the battle of Culloden.
Despite knowing the outcome, the plot surrounding Jamie, and the position he leaves Claire, it is a conditioning factor to wish that the battle of Culloden has a different ending.
Jamestown
The Beginning of the Settlers
Although we have Poldark, the British crown's colonial period in North America has not been treated too much by audiovisual fiction. The most usual thing is for series, in this case, to tell the beginning of the revolt that led to the war of independence and the formation of the United States.
However, curiously, little by little, there have been more and more good shows that knew how to deal with this subject.
The one that premiered first is the fourth season of Outlander, in which Claire and Jaime settle in the territory of Virginia in the mid-eighteenth century. And then came Jamestown, a show that dates back a little further in time, to the seventeenth century and the first British settlements on the coast of North America.
From that era also comes the legend of Roanoke's lost colony that American Horror Story used in its sixth season, but that's not where Jamestown moves.
There are no ghost stories; there are disputes over land with the Native Americans, personal quarrels among the settlers, struggles to control the settlement, and, above all, three women trying to get ahead in the face of all the adversities come their way.
That is the most exciting point of the show, led by Naomi Battrick, Max Beesley, Claire Cox, and Stuart Martin. The three females arrive at a colony that has spent years without a female presence of any kind.
Although three of its inhabitants pay their tickets for them to travel there, marry them, and thus ensure the settlement's continuity, they are received with reluctance. Moreover, their future husbands treat them as property rather than people; they must overcome the first obstacle is in their new homes.
The Night Manager
Spies and Scandals Meet Our Small Screens
When John le Carré bylines a spy story that Susanne Bier and David Farr adapt for BBC One starring Tom Hiddleston, Hugh Laurie, and Olivia Colman, you pay attention.
Le Carré is known for his fictional literature on espionage, which he knows a lot about after working for the British Secret Service and Intelligence Service, a dirt source on prosecutions, politics, and skulduggery.
In The Night Manager, we have as protagonist Jonathan Pine (Hiddleston), a former British soldier turned into a night janitor of luxury hotels involved in a plot of arms trafficking when sending sensitive documentation that falls into his hands.
British intelligence agent Angela Burr (Colman) decides to recruit him to infiltrate the inner circle of Richard Roper (Laurie). The latter uses his philanthropist persona as a mask and puts him on the ropes.
It was a project that has cost £3 million per episode (the money shows, of course). It was risky to bet on a story circulating for years in the film industry and never really took off. Of course, it needed these six hours to adapt the content, but it was well worth it.
The English Game
Ye Olde England, But in a Different Direction
In The English Game, the creator Julian Fellowes (Downton Abbey and Gosford Park) ventures into the streaming giant with this attractive reconstruction of the beginnings of soccer that connects at times with Ken Loach's cinema.
Back in the late 19th century, long before it was the most popular sport on the planet and one of the most lucrative businesses, soccer was just a game reserved for wealthy Englishmen who, in turn, had shaped the rules in such a way that it barred the lower classes from entering the main competitions.
Until 1883 when Blackburn Rovers F.C. changed history by beating Old Etonians in the F.A Cup, the oldest tournament in soccer.
The story of how a group of blue-collar workers from the north of the island beats London's aristocrats is the centerpiece of The English Game.
As in Downton Abbey, Fellowes' most well-known work, the issue here is to explore the conflicts and class divisions of the past as a way of understanding the present. He resorts to two characters located on opposite sides of the tracks, whose paths intersect again and again during the four years of the story.
On one side is Lord Kinnaird (Edward Holcroft), son of a powerful London banker, star player of the Old Etonians, and head of the organization in charge of the F.A Cup, who will slowly begin to realize that soccer is much more than a game of eleven against eleven.
Fergus Suter (Kevin Guthrie), a humble player who joined a factory to be part of the workers' team when the rules prohibited the payment of footballers.
But with that team already eliminated, Suter packed his bags to go to Blackburn, which is considered one of the first "passes" between teams. He did it, of course, for the money, thus draining the spirit of the Etonians.
FAQ
Question: What country is Poldark set?
Answer: Poldark is set in Cornwall, South West England. Cornwall is one of the most unspoilt and beautiful places in the UK, as demonstrated by the TV series.
Question: Does Demelza cheat on Ross?
Answer: Poldark's series 3 finale is the "lowest point" for Ross and Demelza says writer Debbie Horsfield. The Poldark finale saw Demelza do the unthinkable – betray her wedding vows to Aidan Turner's Ross.
Question: Why does George Warleggan hate Ross Poldark?
Answer: Instead of being humble, like Demelza, he stepped on people of lower class and disregarded them. That's why Ross disliked him. He didn't care that he was nouveau rich, he didn't like how he despised and used the lower class to gain his riches.
Question: Will there be a sixth season of Poldark?
Answer: There has been no news on whether or not a sixth season will be made for Poldark. The fifth season of the series ended in 2019, so it has been a while since fans have received any content or updates on it. Although from the looks of it, it does not seem like the series will be renewed for another reason.
Question: Does Netflix have Poldark?
Answer: Where can I watch Poldark? Poldark is available on Netflix but it is only, currently, the first four seasons. You can purchase the complete series from Amazon on DVD or the final run is also available to buy on Prime Video.
Shows Like Poldark – Brief Summary
We love going back to both old England and the present day. Because the land of Shakespeare always promises some fabulous adventures. This becomes very clear as soon as you've seen a couple of episodes of Poldark or any of the other series featured here.
Thanks to the creators, producers, and actors' abysmal talent, these shows have managed to take off perfectly and land in front of TV worldwide.
But Poldark has a special place in our hearts. The series has been around for decades, and as you can see, it's still talking, and soon, we're expecting more from the world of Ross Poldark.
Until then, it's clear that the stories from the old continent continue to bring us great stories and scripts, and the main ones can be found in Outlander, Jamestown, The Night Manager, and The English Game.
If what you need is to stay in the world of Poldark, then clearly, your two best choices are always going to be Outlander or Jamestown. Admittedly, though, we personally prefer Outlander.
Then, if what you want is to continue in the past, but under another theme, give a chance to the very recent series released last year called The English Game. Because, although soccer may not be your thing, the series will most likely hook you for other reasons.
Finally, if you want more tension and topicality, we seriously recommend you take a look at The Night Manager.
You will see that none of these series will disappoint you, and although some of them are short, their stories will fill you with pleasure!
Read More