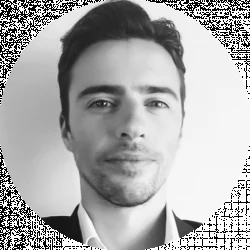 Latest posts by Roman Vogdt
(see all)
We all know that Netflix still reigns supreme among on-demand streaming platforms. New ones may be emerging day in and day out, but the red N logo remains strong and continues to stand out in various genres, such as musicals. That's why we want to bring you the best musicals you can find on Netflix. The only thing we warn you beforehand is that your neighbors better want to hear you sing (or sing with you).
7 Best Musicals on Netflix
Without further ado, these are the best musicals on Netflix that you can enjoy this year. Get your voice warmed up and throw yourself into your favorite songs!
Burlesque
The Female Pop Voices (Sassy) Kingdom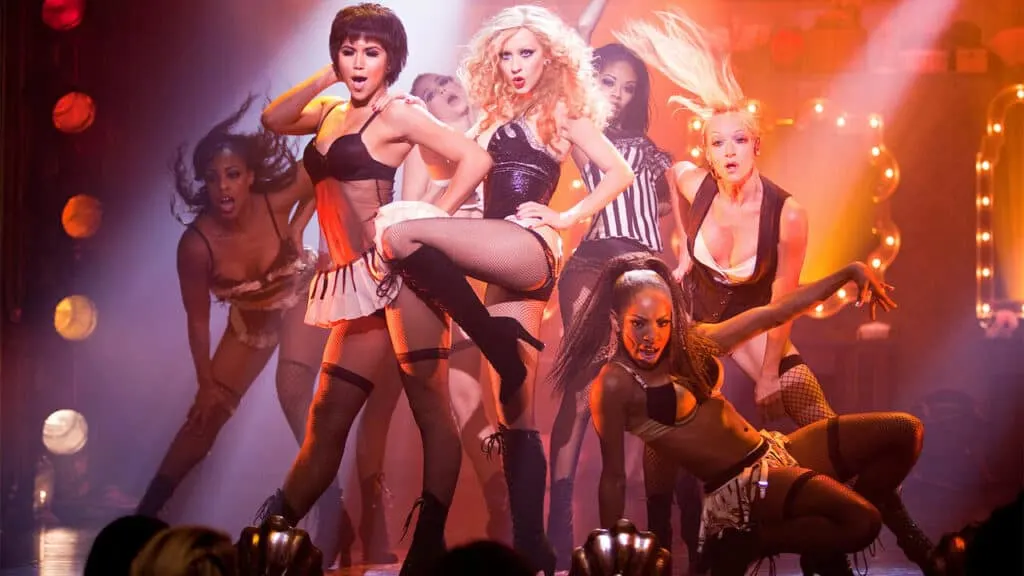 The year 2010 had the guts to bring us a jaw-dropping battle between two of the best female singers in pop history. Steven Antin ditched his Troy character from The Goonies with his directorial debut and put the music into high gear to bring us an unforgettable movie. Luckily, he did so in a musical format, which took the box office by storm and remains to this day one of the most-streamed musicals on Netflix.
Ali (Christina Aguilera) plays a provincial girl's role, gifted with a fantastic voice, who decides to move to Los Angeles to fulfill her dreams. Once there, she finds herself in "Burlesque Lounge," an old theater with serious financial problems, run by Tess (Cher), where through her relentless insistence, she gets a job as a waitress with the only ultimate goal – to be able to step on stage someday. Soon she is presented with the opportunity to demonstrate her talent on the stage, which she does not hesitate to take advantage of. Her spectacular voice brings the "Burlesque Lounge" back to the glory and status it once enjoyed, but not before obviating the plots and attractive proposals of the brilliant businessman Marcus Gerber (Eric Dane).
Burlesque is a creation with extravagant set designs and elaborate costumes. The film connects immediately with the audience, with a very successful Cristina Aguilera role, and where Cher lets us delight us with her incredible voice. Throughout the musical, the spirit and energy remain very high. On the downside, almost the entire film is confined indoors, which produces a somewhat claustrophobic atmosphere.
Mary Poppins Returns
The Return of The Queen of Musicals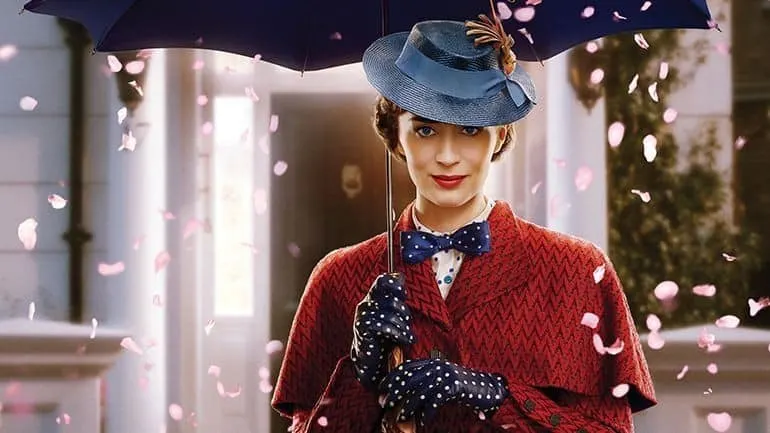 As soon as it starts, the musical takes care of softening our hearts with its wonderful soundtrack's first chords, with its first act starring Jack, the London lamplighter played by a tremendous Lin-Manuel Miranda, Who invites us with his song to illuminate a city of London plunged in the darkness inherent to the depression era of the early 30s. More than just an introduction, this act is revealed as a statement that clarifies the film's intended function. Mary Poppins has, without a doubt, returned, thanks to Emily Blunt. The whole movie brings light into our lives with an authentic festival of magic, color, and music that dazzles in each of its frames.
Mary Poppins Returns picks up the baton in multiple aspects of Robert Stevenson's classic film. In this musical, the Banks brothers return as well, as adults, and several plot elements of the original take care of adapting the formal and narrative hallmarks of the 1964 film to the current times in a brilliant product with the potential to captivate all types of audiences.
The ability to embrace and satisfy such a broad spectrum of audiences lies in the hands of Rob Marshall. As a director, he already demonstrated his innate talent for musicals in the impeccable Chicago, where he balances tone and style—embracing a delightful classicism that captures all the essence of the golden age of the genre, as well as that of the most vintage and charming Disney. At the same time, displaying an audiovisual power that meets the demands of today's audiences.
Grease
The Musical Emperors of Cool Tackiness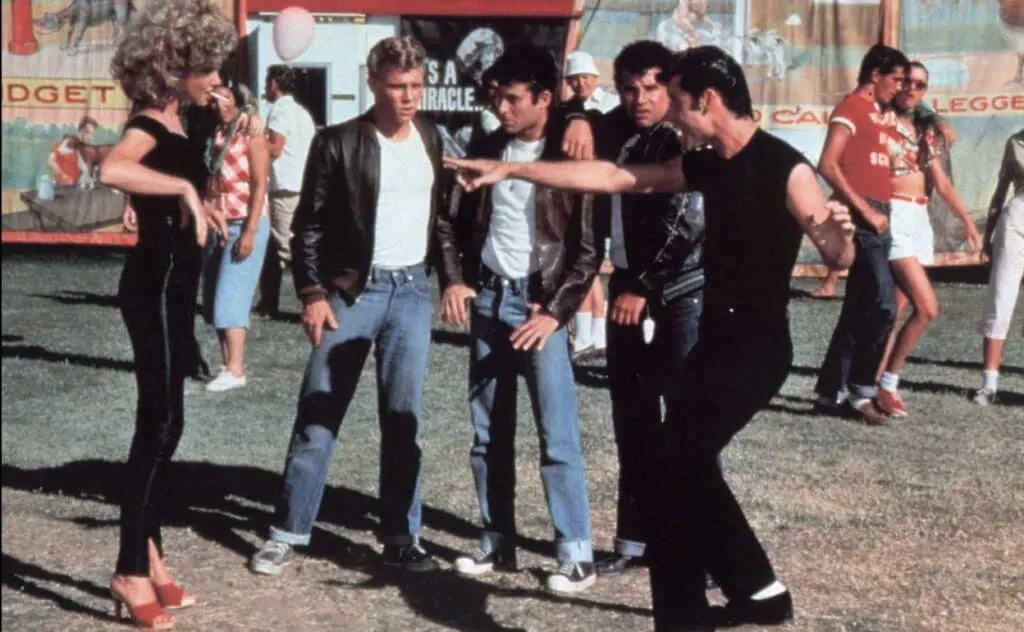 Next on our list of best musicals on Netflix was an instant classic. It couldn't be any other way: boy meets girl, summer ends, boy and girl separate, but when they start high school, they meet again and discover that they belong to two very different worlds. And this is only the beginning! Despite his swaggering friends' general opposition, Danny Zuko (John Travolta) is still interested in Sandy Olsen (Olivia Newton-John). Although the more rebellious high school girls reject Sandy, they don't take long to accept her. This tension built at the beginning of the story soon disappears and gives way to teenage bickering: boys who don't want to grow up and repressed girls losing their prejudices of sex before marriage. The drama becomes a secondary thing, and we are left with one of the most famous musical numbers, with some good jokes and an unabashed and very welcome youthful energy.
It is less interesting to talk about the story than the production design. The work of the late Philip M. Jefferies, with the help of James L. Berkey, recreates that exaggerated '50s look. Berkey creates that exaggeratedly naive and colorful setting, which shines in 'Greased Lightnin'. In the song, friends fantasize about the big car they will design to win all the races. Then there's the typical dinner, later transformed into the hairdresser of Frenchy's dreams (Didi Conn), among other successful sets. All the actors themselves have excellent chemistry, which is a joy not only on screen but also in the songs.
Personally, I think the great Stockard Channing has such a commanding presence as Newton-John. Her relationship with Kenickie (a great Jeff Conaway, really) is as interesting as Danny and Sandy's. But ultimately, it's an over-the-top light-hearted flick. In short: it delights two hours of your life when you're in the mood for some fun. Grease has aged much better than most of the musicals we have on Netflix in 2021. Because even though the film has its tacky touches, it's still a charmer for all generations.
Coco
The Musical of Culture and Tradition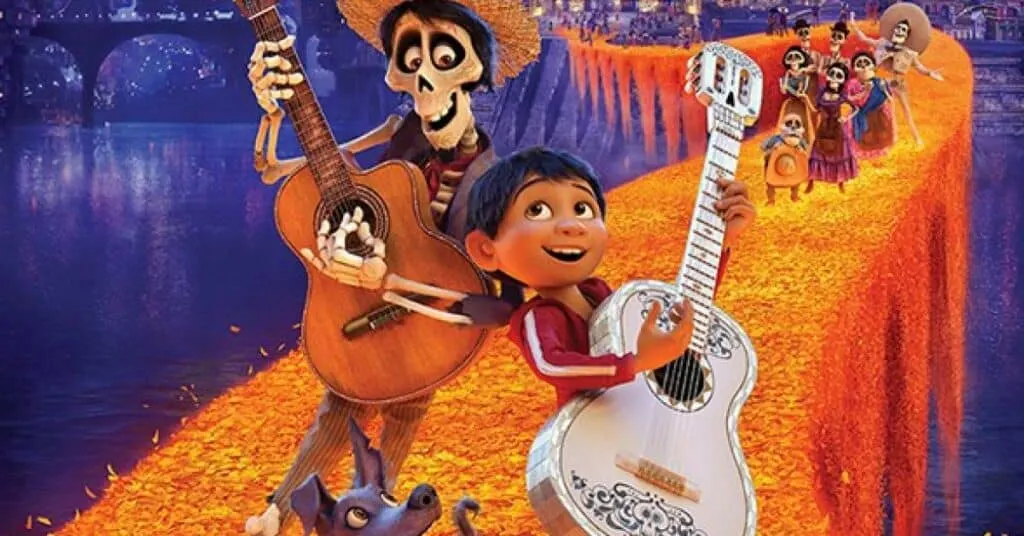 What if we could be reunited with our long-dead relatives? Based on the colorful Mexican celebration of the Día de los Muertos (Day of the Dead), Coco unveils the mystery of sharing the most extraordinary and surprising family reunion, even with those ancestors who died many years ago. All that, but with some extraordinary music.
The story follows a twelve-year-old boy named Miguel, who lives with his family in rural Mexico, and whose dream is music and playing the guitar. Miguel will trigger a series of extraordinary events related to a centuries-old mystery. The Day of the Dead holiday will serve as a backdrop for our protagonist to question where he comes from, his place within his family, and how family relationships have been interwoven over time. A celebration of life, music, family, memories, and connection across generations.
This animated film directed by Lee Unkrich and Adrian Molina features an original voice cast, including actors Benjamin Bratt and Gael Garcia Bernal and Anthony Gonzalez as the protagonist Miguel. The cultural references to Mexican totems such as Frida Kahlo, Jorge Negrete, or Cantinflas are consistent. The tour leads us to discover alebrijes, xoloitzcuintles, cempasúchil flowers, tamales, papel picado, and much more. ¡Órale!
Jersey Boys
The Serious Musical of This Bunch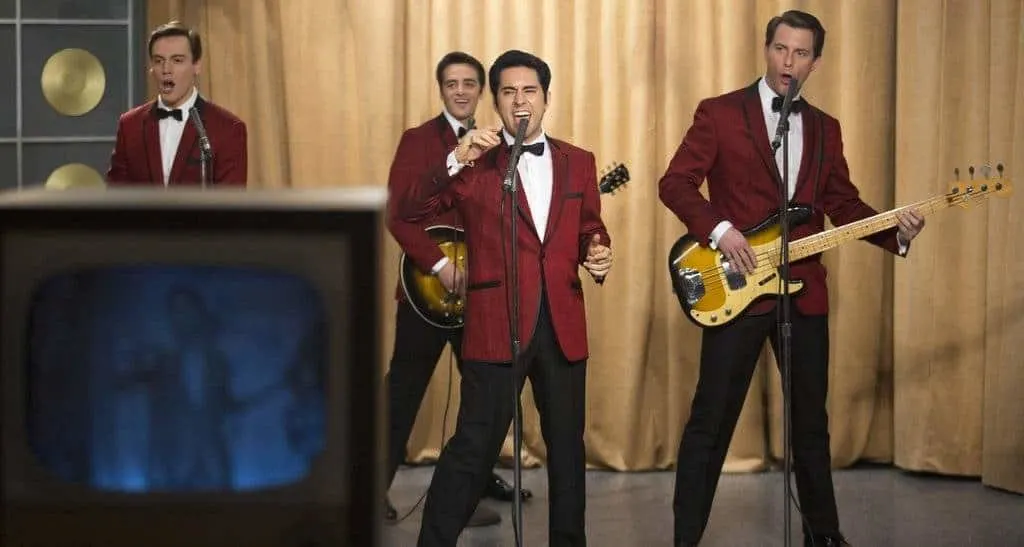 There is an assumption that Clint Eastwood now does whatever he wants due to the position he has in Hollywood nowadays, distanced from it and without the slightest regard for the viewer, much less caring about what critics and audiences say. False. Eastwood has been doing whatever he wants for more than forty years when after his experience with Sergio Leone, he founded his own production company. With a couple of exceptions, he controls each and every element of any project that falls into his hands.
The origin of a film like Jersey Boys can be traced back to Eastwood's interest in remaking A Star Was Born, a project that overtook Bradley Cooper recently since Eastwood suffered a setback when the leading actress abandoned it. The biopic about Frankie Valli (John Lloyd Young) and his band took over without departing from the musical genre. The result brought us some outstanding musical performances that still echo in our heads.
Like any good self-respecting musical biopic, the film follows the years of glory and decadence of the group led by Frankie Valli, The Four Seasons. Some outstanding authors of several musical hits in the sixties and seventies. In his first foray as a director into the musical genre, Eastwood talks about the American dream and the importance of specific human values that seem to disappear in a world where handshakes once were the most sincere sign of commitment. To do so, Marshall Brickman, who had not written a script for twenty years, and Rick Elice adapted their material for the successful Broadway musical released in 2005.
The Dirt
Netflix's Dirty Musical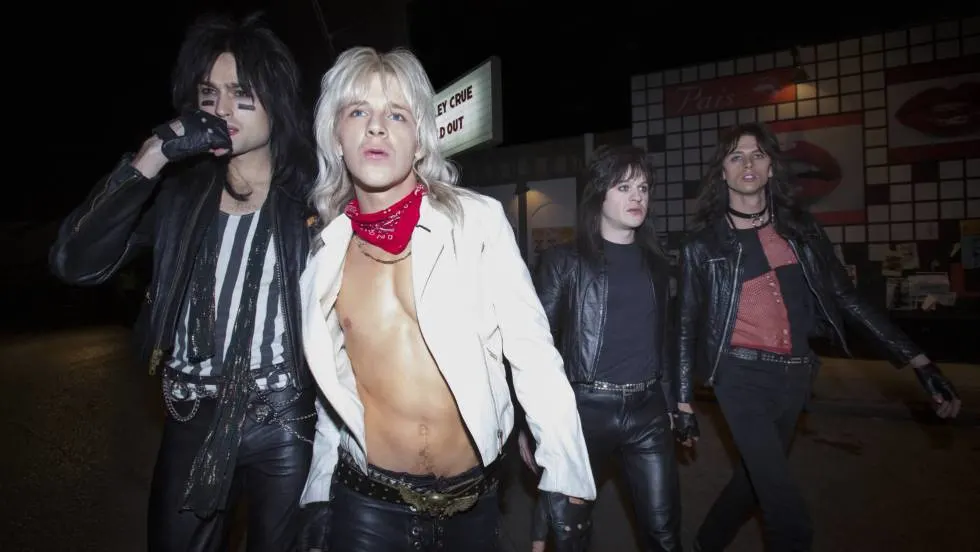 The prologue of The Dirt warns the audience. This musical will be fast, it will hurt, and it will be the more or less faithful recreation of the eternal foolishness of four guys who found success and did not know how to say no despite living in the age of the answer with a refusal to any narcotic offer. It was no easy task to put into images such a low-life, treacherous confessional. However, thanks to the Jackass bunch, Jeff Tremaine obtained experience dealing with people who are clear that they don't mind giving up living at any moment. So, he just put the camera in place and let it have chemistry with his cast. Mission accomplished.
Soft, hard, aspirational, or injectable, the four metalheads horsemen of the apocalypse did not know how to handle all the substances that fell into their hands. But far from being ashamed and trying to hide it, they get to relive some delirious moments such as the "redecorations" of the hotels, their swimming pool encounter with Ozzy Osbourne, the false redemptions, and the tragedies that shook their lives.
The pro-play ambiance is taken advantage of by an astonishing and successful cast that gracefully recreates the actual members that no one ever took seriously. Maybe because of their looks and style, no one ever remembers them, but Mötley Crüe has always known how to come out on top, whether it was a private reunion, the classic porn video which got shot on vacation that got out, or someone making a movie about your life. Of course, something like that you either do it yourself or no one else does. And this musical turned out really well!
La La Land
Two Hour and Eight Minutes of Dreams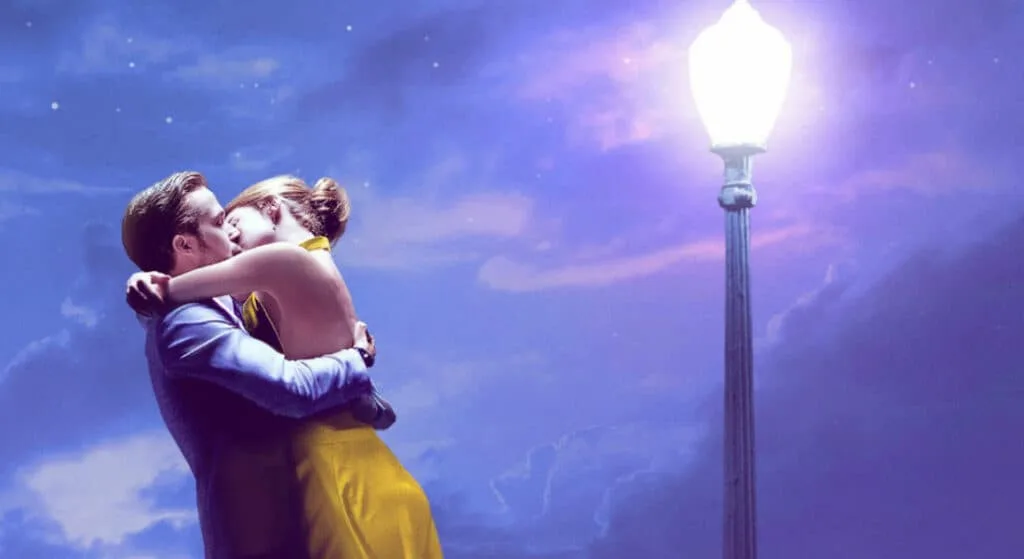 For over an hour, La La Land is a fantasy for dreamers in which absolutely everything is measured to make the viewer see himself reflected in its two protagonists, trying to make their happiness become ours as well. Linus Sandgren's impressive cinematography uses colors to reinforce the fantasy that hovers through the entire movie, without forgetting the tug-of-war of the protagonists until they end up together.
Damien Chazelle indeed has to make certain sacrifices so that the relationship between Ryan Gosling and Emma Stone's characters is the film's exclusive highlight. The idea is to make us love the leads, something we don't have much trouble with either given the great chemistry between the two actors, but without forgetting to create a top-notch musical spectacle.
In my case, it's always tricky for me to get into the musical numbers in which minor characters start singing or dancing out of nowhere. However, Chazelle bets precisely on that resource to form the film. He uses it to show the brilliant camera handling that he will display throughout the entire movie. Maybe that's why it was a little hard for me to get into, but I doubt that this will happen to those who do not share that point of discordance that I have always had with musicals.
However, Chazelle does not take long to give the protagonists their own substantial musical numbers. The actors relied on choreographies impeccably orchestrated by Mandy Moore that transported us to the golden age of cinema during the seduction. Progressively leading us towards a more intimate approach, highlighting the two characters' emotions and never neglecting that excellent technical touch to achieve the desired effect.
Best Musicals on Netflix – Brief Summary
Obviously, there are dozens of more musicals on Netflix, all of which deserve their own entry in the best musicals articles. But the truth is, all the ones on this list have their unique particularity. These are not just the most apparent musicals (although Grease snuck in), but those that offer something refreshing and innovative.
And Netflix seems not to fail in any genre because considering how difficult it is to please musical fans and how hard it is to please even the slightest some moviegoers, the on-demand streaming platform certainly delivers the goods. It is not easy to know how to choose the best musicals since we are also talking about something quite personal.
What is indeed clear is that you have a beautiful assortment of movies from which you can choose, according to your musical and dramatic desires at any given time. Because for example, if you want to start from the most classic and light, you can opt for Grease. And well, if you want the same but with a modern twist, then you have Mary Poppins Returns. Then, if you have two movies that are a little more on the serious side, you have Jersey Boys or The Dirt. For something more emotional and family-friendly, there's always Coco. And finally, if the splendor of musicals and the golden era is your thing, then you have La La Land especially, and then Burlesque.
What you want to see is up to you. However, what we do ask is that you break out your voice and those homemade dance moves!
FAQs about the Best Musicals on Netflix
What makes a good musical film?
Musical films characteristically contain elements reminiscent of theater; performers often treat their song and dance numbers as if a live audience were watching. In a sense, the viewer becomes the diegetic audience, as the performer looks directly into the camera and performs to it.
What famous musical turned into a movie?
While Grease started out as a musical in 1971, it was turned into a successful movie in 1978 that starred John Travolta and Olivia Newton-John.
What was the first musical?
The first theater piece that conforms to the modern conception of a musical is generally considered to be The Black Crook, which premiered in New York on September 12, 1866. The production was staggering five-and-a-half hours long, but despite its length, it ran for a record-breaking 474 performances.
Are musicals all singing?
Sung through musicals are exactly what they seem – they are musicals with no spoken dialogue at all. The musicals are all singing. And if a musical is on this sung-through musical list, it is only singing. Some of the most popular Broadway smash hits have been all-song musicals.
Who was the king of the movie musical?
Although you could consider Netflix now as the streaming musical king, throughout the late 1940's and 1950's, MGM became the king of the movie musical. And this was largely due to the "Freed Unit." Freed's productions became so popular that the studio could afford to have a SECOND unit for musicals under the direction of Joe Pasternak.
Further read: