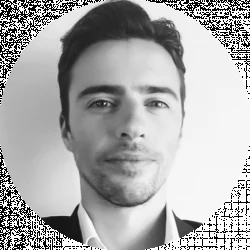 Latest posts by Roman Vogdt
(see all)
On May 26, 1907, John Wayne (Duke to his friends), was born. On May 31, 1930, Clint Eastwood was born. Both were icons of the Western man, tough, dry, uprooted, few words and not so friendly (though faithful all the way), trigger-happy and bullet-proof.
And they were in and out of the Western, and in and out of the movies. They had much in common, as actors and as individuals, and also great differences; but both were, above all, childhood heroes.
If there is a genre par excellence in the history of cinema (American and universal), it is Western; the genre of epics, of pioneering feats, of pure adventure; of seas of grass and infinite deserts and narrow gorges where certain death awaits you; of the lonely heroes, the redeemed outlaws, of the farmers, tramps, cattlemen, and gold diggers; of the Indians and the 7th Cavalry; of the railroad and the Rio Grande, and the stranger without a past and the saloon pianist and the saloon girls and the sheriff. A tough territory forging tough guys. Like Clint Eastwood, like John Wayne.
Western's most Epic Stand-Off
Where it all began for Wayne and Eastwood
One of the best-known rivalries in the world of cinema was the one between John Wayne and Clint Eastwood. Although the director of Unforgiven shared the same experience as Mr. Wayne in the last years of his life, the two did not get along very well, as they made a very different kind of cinema. In fact, the burning question that remained was which one of the two was the best cowboy in Hollywood?
Well, there is something for everyone.
In most cases, people over 60 tend to prefer John Wayne, since they lived his movies more and caught Clint Eastwood later. Personally, I've met young people who prefer the lead character of the stagecoach and older people who prefer Mr. Eastwood.
In my case, I prefer Clint Eastwood. I don't mean that I don't like John Wayne, since I consider him another great actor who participated in great masterpieces (in fact, this case is very similar to that of Rolling Stones and The Beatles, just because you like one doesn't mean that you don't like the other, they are compatible); but the truth is that I have enjoyed more films like Unforgiven or The Good, the Ugly and the Bad than with The Alamo. Let me explain that to you.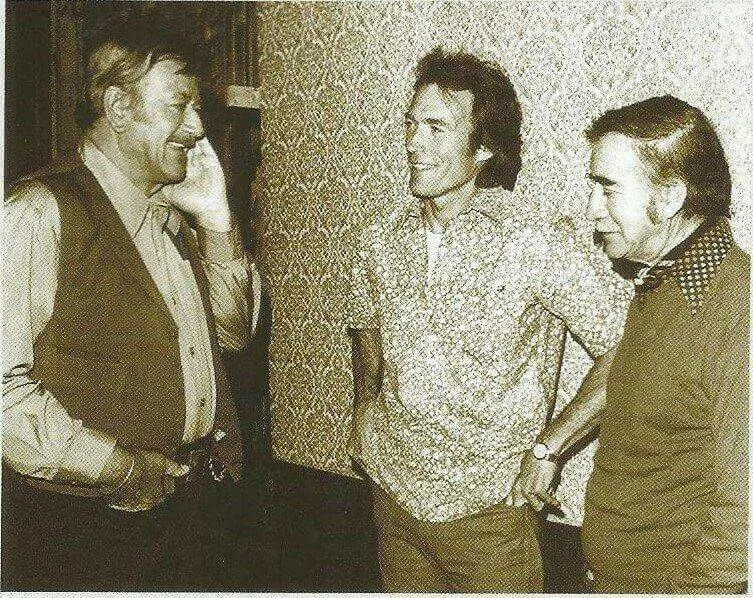 Both are two completely different tough guys. John Wayne shows a style of a man with character, sure of himself, but the truth is too perfect. I see him as the faithful and honest man who tries to stay on the good side of life, leaving his evil side behind.
His firmness reminds us of those American soldiers who would give their lives for their country. It's very common to see John Wayne playing roles of the 7th Cavalry Regiment, always saving the people from the Indians (which, by the way, would be considered extremely racist today).
Clint Eastwood, on the other hand, is just the opposite. In most of his characters, he shows someone without strings attached, an anti-hero who does not hesitate to do anything to achieve his ends.
Most of the time, the actor usually plays thieves, murderers, or people with a dark past that cannot proceed to the light. You would never see Clint Eastwood in the 7th Cavalry Regiment since his characters always belonged to the opposite side, the dark side.
The Road Towards Becoming Epic
How two blue-collared men conquered the world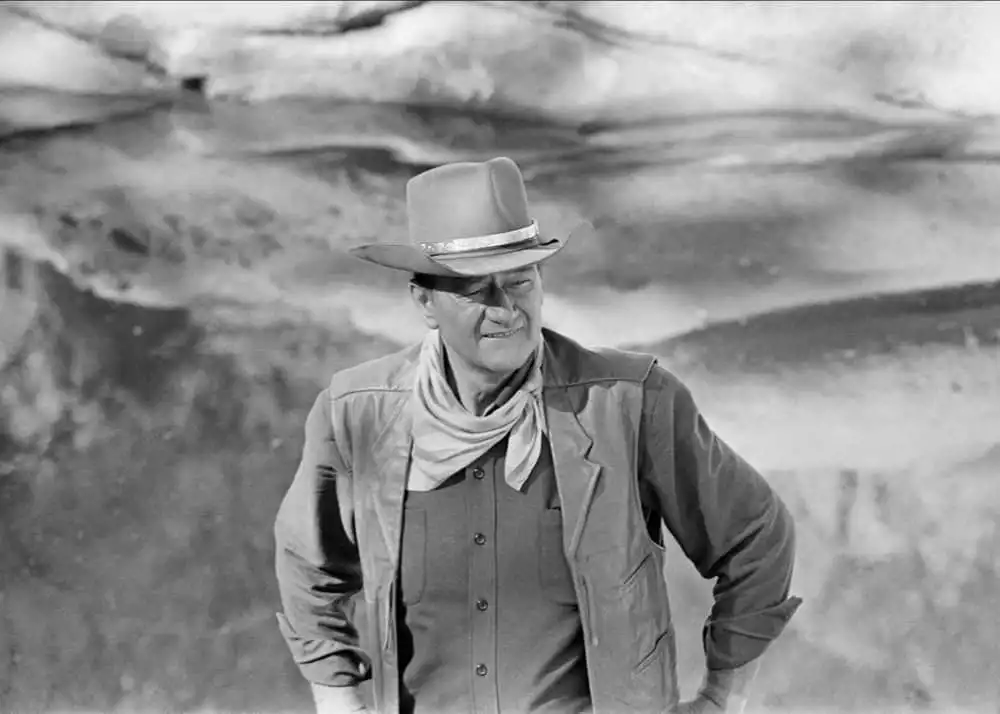 "There are only three men capable of shooting as fast as you. One is dead. Another is me. And the third, as I understand it, is a certain Thornton. What's your name, friend?"
– Cole Thornton (John Wayne in El Dorado, 1967).
John Wayne began his career in movies under the name of Duke Morrison, as an extra in many mediocre films; his first leading role would not appear until 1930, with The Big Trial, under the direction of Raoul Walsh, who also named him John Wayne. From then on, he would never use another name, nor would he ever get out of the leading role.
It was precisely the year that John Wayne was born as an actor, the year that Clint Eastwood was born into existence. His life, which was marked by the Great Depression, was marked by all sorts of jobs: lumberjack, bricklayer, fireman, pool cleaner, metal worker, swimming instructor and piano player in bars. Until he found his true vocation.
"I am William Munny, from Missouri, the murderer of women and children. I have killed anything that was alive or moving and today I have come to kill you"
– Bill Munny (Clint Eastwood in Unforgiven, 1992).
Like John Wayne, Eastwood acted in mediocre movies and TV shows as an extra or a supporting actor, until Sergio Leone turned him into a myth with his Spaghetti Western Trilogy, starring with The Good, the Bad and the Ugly (1966):
"You see, in this World, there's two kind of people, my friend – those with loaded guns, and those who dig. You dig."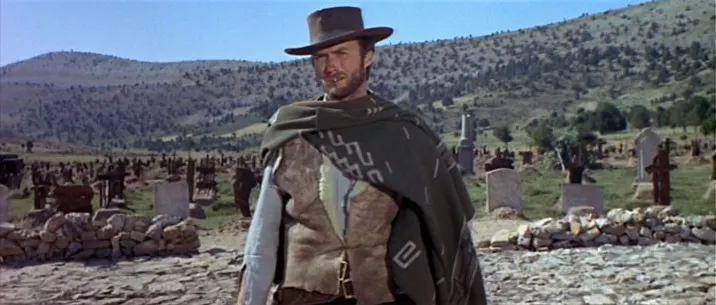 From that moment on, Clint Eastwood was one of those with a loaded revolver, and he never ran out of bullets.
The same happened to John Wayne, when the greatest director of Westerns, John Ford, granted him the grace of playing Ringo Kid in the mythical Stagecoach (1939). From then on, he knew how to assume his hero status with ease and efficiency in all the roles he played. Not in vain Jimmy Carter said of him:
"In an era with few heroes, he was an exceptional man, who became more than a hero, becoming a symbol of many of the qualities that have made our country great".
He starred in epic westerns under the command of the masters of the genre, but also in great war exploits and exciting adventures and gentle comedies on exotic islands.
Wayne & Eastwood: Their legacy
Swimming upstream during rebellious times
John Wayne was a catcher of wild beasts in Hatari! and retired boxer in The Quiet Man, and savior of idealists in The Man Who Killed Liberty Valance ("the toughest man south of Picketwire"), and was the drunken sheriff of True Grit (his only Oscar) and, above all, was the vindictive seeker, and secretly in love with his sister-in-law, Ethan Edwards in The Searchers ("Someday it will become a nice place to live, it may take our bones as fertilizer for that to happen"), no doubt his best interpretation.
Clint Eastwood was also many things besides the lonely stranger in the poncho, the bitten cigar, and the rocky face. He was an iron sergeant and country singer and night DJ and a romantic photographer and a bodyguard for JFK and a retired astronaut. But, most of all, he was Harry Callahan, the dirty, enforcer, 44 Magnum, "Make my day" or "There's nothing wrong with shooting as long as you shoot the right people".
Dirty Harry was the role that elevated him even further, and also the one that marked him as right-wing, ultra and other unjust beauties (as happened to John Wayne with Green Berets, the only film about Vietnam where American soldiers are heroes).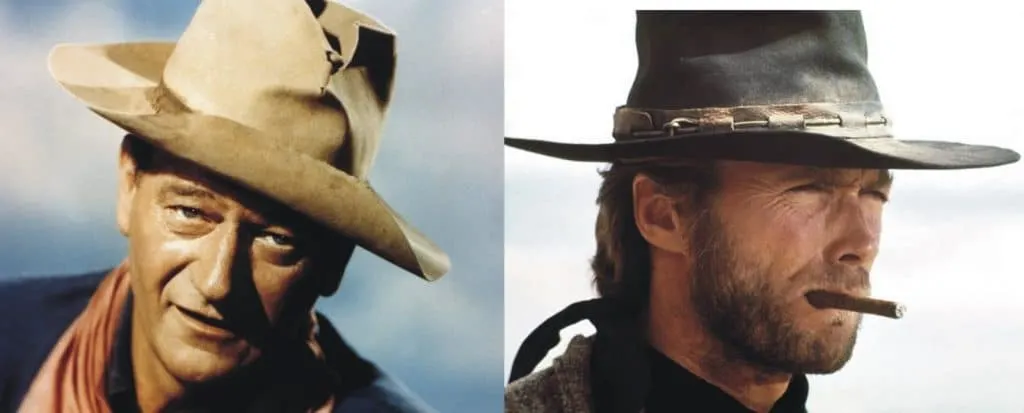 And, by the way, Clint was the actor-director who brought back the classic western with Pale Rider ("Do you drink, Reverend? Only from nine o'clock in the morning.") and, much more fiercely, with Unforgiven, a film on a par with Ford's or Hawks' greatest, in which William Munny's character embodies, all by himself, a whole genre;
"Killing a man is a despicable thing. You take away everything he has, and everything he could ever have."
And if John Wayne was a good actor (sometimes a great actor) who participated in a good handful of legendary films, Clint Eastwood is, above all, a magnificent director.
The last classic director of his era, author of masterpieces such as Bird, A Perfect World, Mystic River, Million Dollar Baby or Gran Torino: "Have you ever noticed that, from time to time, you can meet someone you shouldn't mess with? That's me". That's Clint Eastwood, a tough guy that nobody should mess with except maybe John Wayne.
"I've made over 250 movies and I've never shot a guy in the back,"
– said John Wayne.
And he didn't cut himself telling his friend Clint that he did, mercilessly, in High Plains Drifter. But the old Duke would no doubt have admired old Clint when he was shot for such a good cause in Gran Torino; an epic and meaningful death, which is also the "death" of Clint Eastwood as an actor, leaving the four-time oscar-winning director a little more time and energy to focus on continuing to direct masterpieces.
The Last Stop
What separated both artists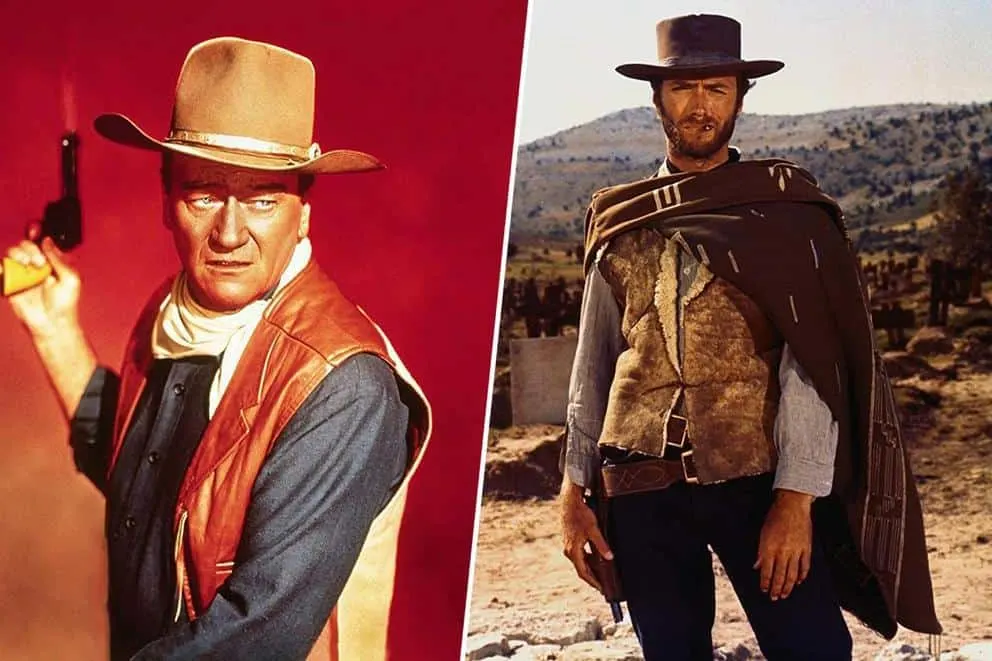 I have to say that John Wayne's films and Clint Eastwood's films were made at different times, so the audience's perspective was very different. That's why the view of the Western world that was seen in John Wayne's universe was so different from Mr. Eastwood's.
In John Wayne's films, you could tell the good guys from the bad guys. Most of the time it was Indians against cowboys or the 7th Cavalry Regiment against gangs of cowboys who were looting villages.
An army man always thought of others, never himself. Selfishness only existed in the villains, you would never see a soldier thinking about himself (I am generalizing, this does not happen in all your films. Stagecoach, for example, does not belong to this category).
In the case of the Eastwood universe, you can't trust anyone, much less the protagonist. Most of the time, the distrust stands out in the scene, from the thief to the sheriff can end up being murderers. People are selfish, taken advantage of, everyone is looking out for themselves.
A soldier can be a rebel wanted by an army that only cares about winning battles. In High Plains Drifter, the protagonist never reveals his dark past, something very common in the characters that the actor plays. With this, he shows us that more than a hero he is a common mercenary.
This is, for me, the most convincing reason. The evolution of the actors is quite different. John Wayne was a great actor, of that I have no doubt, but he always remained in his hard and honest cowboy persona that used to keep all situations under control.
I have to say that in his last film there was a change of style, especially because the film was directed by Don Siegel. In 1976 Wayne made The Shootist, a film in which the director asked the main character to shoot someone in the back, and he refused because he thought it was cowardly. Don Siegel, in an interview, acknowledged that Clint Eastwood would have done that scene without any problem.
As far as Clint Eastwood is concerned, I have little to say that you don't know. His facet as an actor was not enough for the main character of Million Dollar Baby and he decided to get involved in the direction and production, mainly because he was tired of taking orders and wanted to be his own boss. He is now considered one of the best directors in history.
FAQs
Did John Wayne make a movie with Clint Eastwood?
The two almost go together for a movie in the mid-1970s. Almost. The story goes that Clint Eastwood wanted to work with John Wayne, so he sent him a script. However, the Duke refused the role.
Did John Wayne have cancer in his last movie The Shootist?
During the making of The Shootist, Don Siegel's rich, elegiac western about an aging gunfighter dying of "cancer", John Wayne became too ill to film. The actor had had a lung removed twelve years earlier and was now struggling with the stomach cancer that would eventually lead to his death in 1979.
Why did John Wayne dislike Clint Eastwood?
Wayne perhaps didn't dislike Eastwood, however, he disliked at least one of Eastwood's roles. After seeing High Plains Drifter, Wayne wrote Eastwood a letter complaining about the film and its content. He felt that it degraded both the Western as well as the Old West. Eastwood was apparently very amused by this and still retains the letter to this date.
Did John Wayne fear horses?
John Wayne hated to ride horses. He never rode them except on set, and never rode when he didn't have to. Now, while it's true that Wayne once told an interviewer that he did not especially enjoy riding horses, and generally didn't unless it was necessary, this does not mean he hated horses.
How many does each artist have?
John Wayne received thanks to True Grit one Oscar for best actor in a leading role, and Clint Eastwood has four, thanks to Million Dollar Baby (director), Unforgiven (picture and director), and the Irving G. Thalberg Memorial Award.
Final Thoughts
Two actors who touched millions of lives. Two actors who flew over several generations, finding (almost) always the time and place to raise their voices. And all that, during decades of tension, conflicts, revolutions, and most of all, shifts in ideologies and points of view.
Today, such superstar duels no longer exist. At best, superstars gather for a multi-billion dollar movie, yet there are no longer such charismatic, imposing individuals who move (and travel over) mountains like John Wayne and Clint Eastwood.
Well, you might have noticed that they were both very different from each other and from the roles they played. For the purest, John Wayne was the righteous answer and for the most rebellious, the only way out was to see Clint Eastwood.
But, if all this has seemed interesting yet you don't know any of their movies, I strongly recommend you to start with The Good, The Bad, and the Ugly to enjoy Blondie, who's the most prominent character of Clint Eastwood, and The Searchers if you want John Wayne at his best as Ethan Edwards.
Further read: