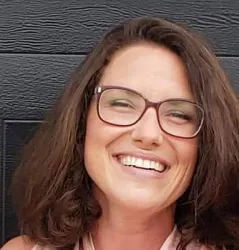 Latest posts by Sarah Caldwell
(see all)
The year 1983 saw plenty of great films. Chances are you've heard, and probably seen, a ton of them, but there were a lot of underrated movies from 1983 as well. This list should remind you of some of your favorites and drum up a list of some that you should probably make it a point to rent.
So grab your favorite drink, pop some popcorn, settle into your favorite spot, and enjoy our list of the best movies of 1983.
Classics from 1983
These are movies everyone has heard of. If you haven't, you've been living under a rock. Here are some of the greatest movies released in 1983.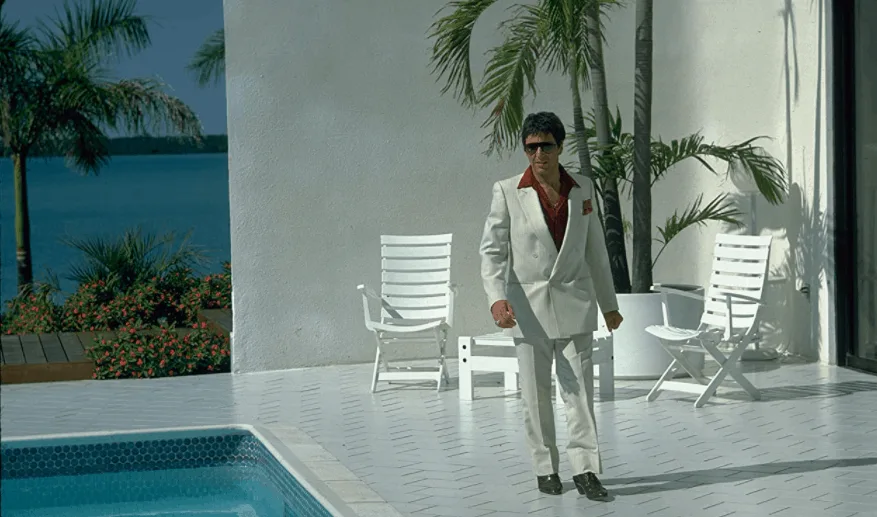 Arguably one of the best drug crime dramas ever made, Scarface focuses on the story of Tony Montana and his rise to the top of the cocaine empire in Miami. Portrayed by Al Pacino, the character of Tony Montana is perhaps most well-known for his iconic line, "Say hello to my little friend!"
The film also stars Michelle Pfeiffer, who plays the wife of Tony Montana. While some suggest that the movie is more of a cult classic, there's no denying it has left its mark on popular culture. This is evidenced by the fact that it is referenced in many hip-hop songs, television programs, video games, and comic books.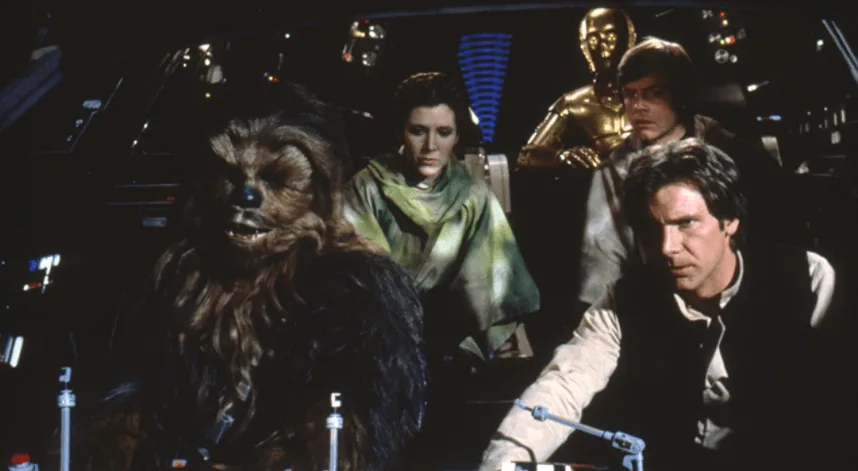 Return of the Jedi is the third installment of the incredibly popular Star Wars franchise, bringing the three-movie arc to a close in 1983. Even though it's titled as the sixth episode, Return of the Jedi was released prior to the first three episodes, which wouldn't hit theaters until 1999.
These movies tell the story of the Rebel Alliance and its fight against the Galactic Empire. More specifically, we experience some of the most iconic characters to ever grace the movie screen. Darth Vader, Luke Skywalker, Leia Organa, Chewbacca, Han Solo, C-3PO, and R2D2 are just a few of the well-known characters that make up this epic space opera.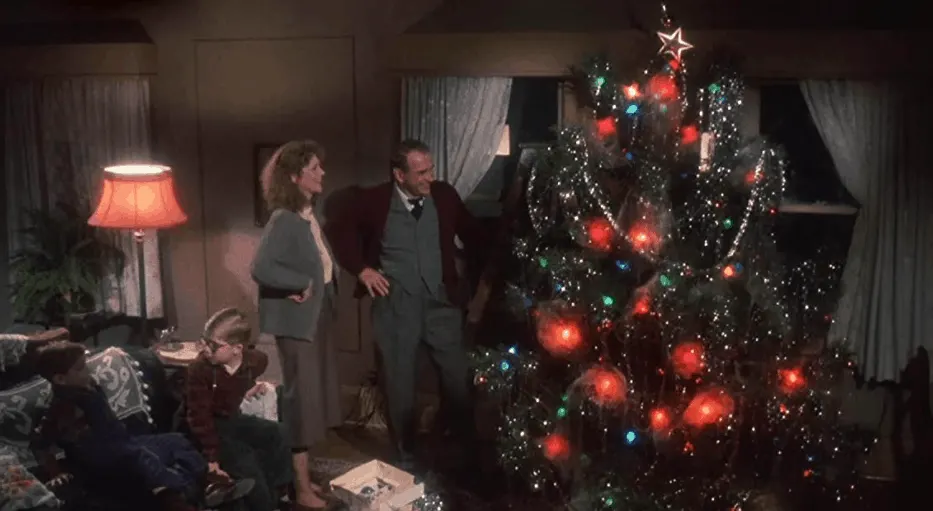 A great classic movie to enjoy with the family during the holiday season is A Christmas Story. It's a film that regularly airs on both Christmas Eve and Christmas Day, so if you're looking for something to keep you distracted for a few hours, A Christmas Story is a solid choice.
The film depicts 9-year old Ralphie Parker and his pursuit of a Red Ryder Carbine BB gun for Christmas. He is continually rebuffed by his mother, his teacher, and others as they tell him he'll "Shoot his eye out." Despite these dire warnings, there's nothing that Ralphie wants more. Does he get the desire of his 9-year old heart? You'll have to watch the movie to find out.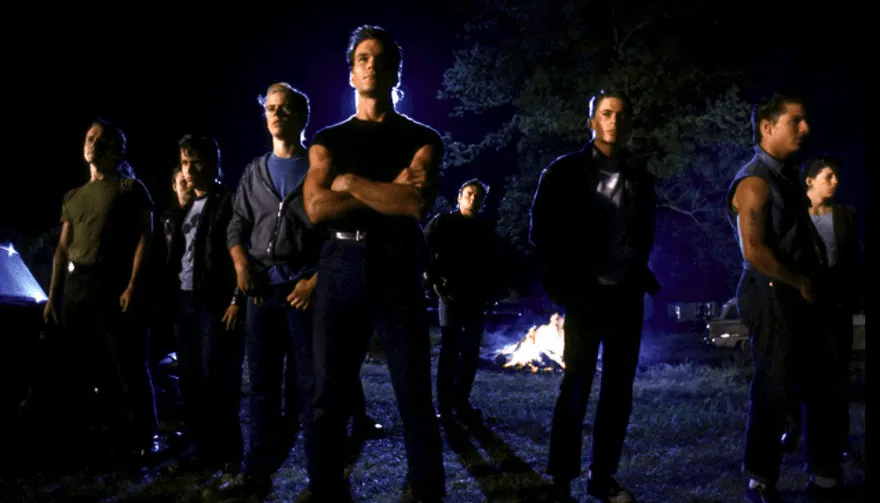 One of the best coming of age moves of the 80s is The Outsiders, which features a loaded cast of future stars, including Patrick Swayze, Ralph Macchio, Rob Lowe, Emilio Estevez, Diane Lane, Matt Dillon, and Tom Cruise.
Many of the characters portrayed by these actors are known as "Greasers," which are a group of low-income teens from working-class families.
The film follows them in their struggles as they deal with the reality of being discriminated against and viewed as lower-class citizens. Be sure you "stay gold" as you watch this fun, weird, and nostalgic film about the kids from the wrong side of the tracks.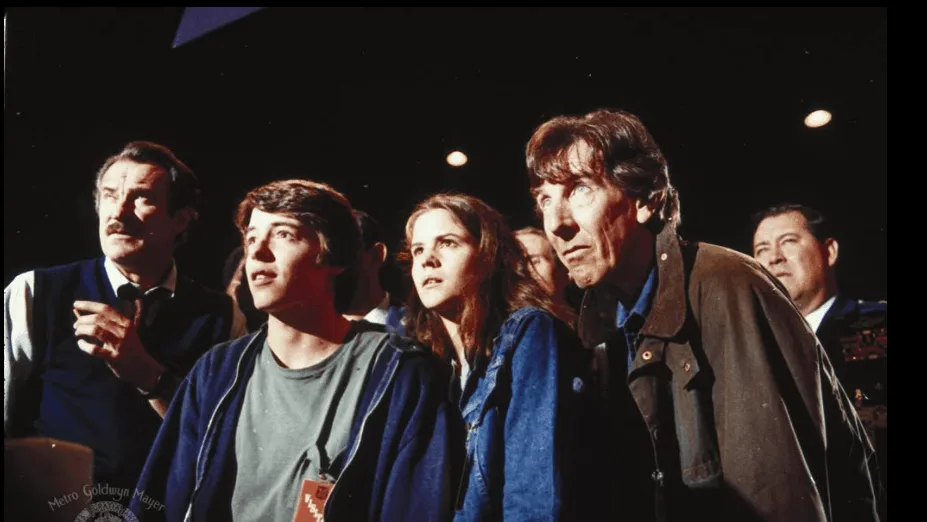 For those of you that grew up in the 80s and enjoy tech movies, War Games is a great option. This movie stars Matthew Broderick, best known for his breakout performance in Ferris Buehler's Day Off, and Ally Sheedy, who became popular thanks to her performance in The Breakfast Club.
This film follows these two as they unknowingly begin playing a game of nuclear war against a military supercomputer. They must race against time to prevent the computer – which can't tell the difference between reality and simulation – from starting World War III.
Action Movies of 1983
These are the movies of 1983 that are sure you get your heart pumping. While they may not have the special effects we're used to seeing nowadays, they're still great films that will have you on the edge of your seat.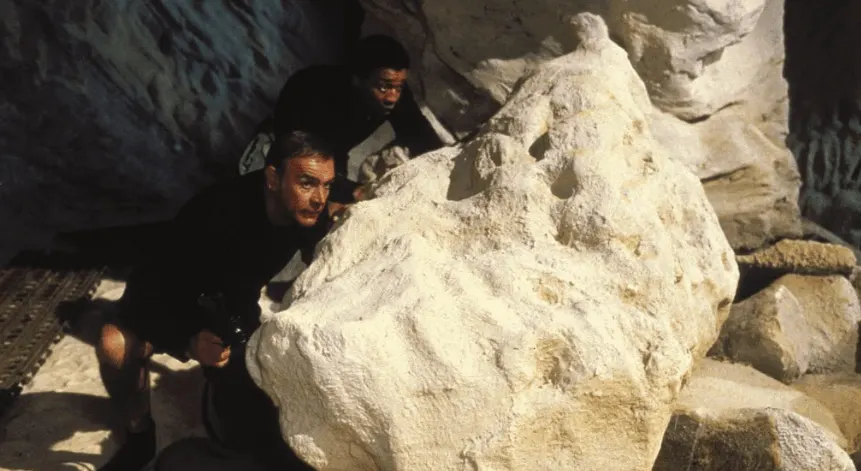 We'll start with a Bond film that's not really a Bond film. At least not according to Bond purists. Never Say Never Again brings Sean Connery back to play the well-known British secret service agent, 007. While the film was not released by MGM, which has released every other Bond film to date, it's still an action-packed movie you're sure to enjoy.
Never Say Never Again is loosely based on a previous Bond film, Thunderball, released in 1961. Fans will also quickly notice Kim Basinger, who plays Bond girl Domino. While Never Say Never Again may not be a part of the official Bond canon, it's an exciting movie that will keep you on your toes throughout.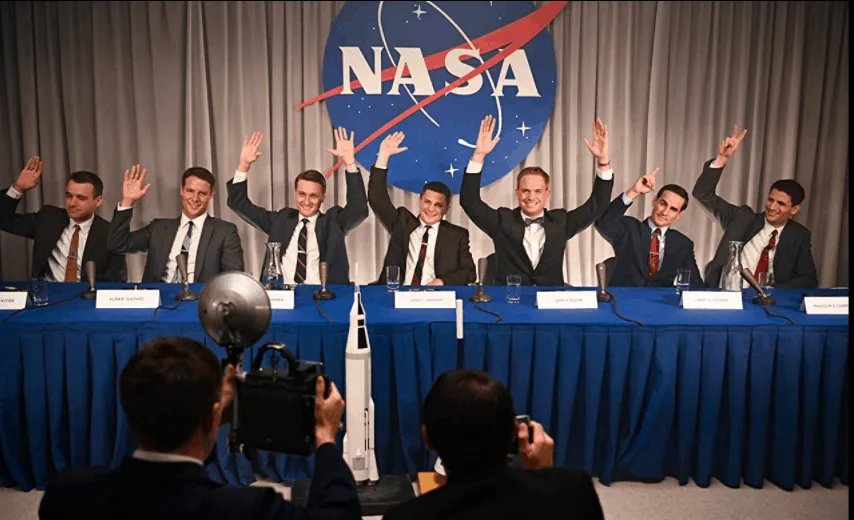 If you like space movies but aren't all that into Star Wars, first, don't tell anyone, and second, you might check out The Right Stuff. This historical movie focuses on seven men selected to be part of Project Mercury, which was the first human flight mission into space by the United States.
With stars like Dennis Quaid, Sam Shepherd, and Ed Harris, this movie will have you biting your nails with anxiety, even though you already know how things turn out. Still, the film does an excellent job of depicting the nascent years of the United States space missions.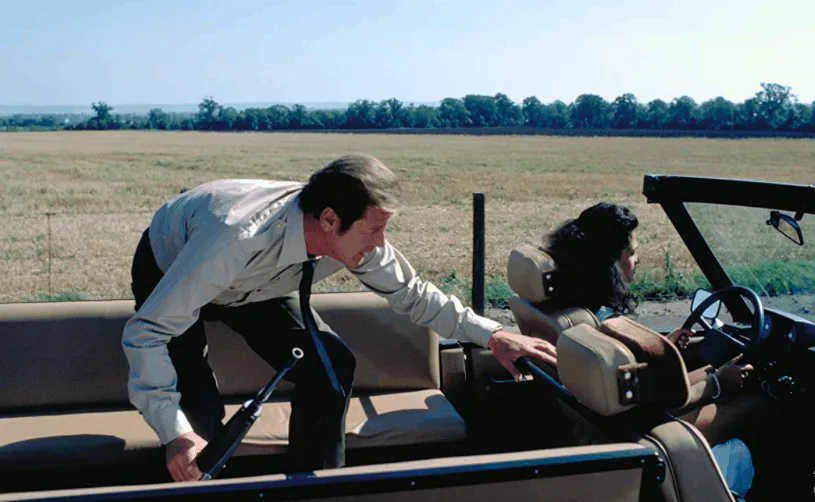 The second James Bond movie on our list is Octopussy, which stars Sean Connery's replacement, Roger Moore. Octopussy is Moore's sixth foray into the world of 007 and is the 13th "official" Bond film.
Bond is given the task of determining who is stealing valuable jewels from the Soviets. Eventually, his investigation leads him to a wealthy prince along with Octopussy. 007 has to foil the plot and save the day all while looking good and maintaining his stoic British demeanor.
Feel Good Movies of 1983
If you're looking for a movie that's fun, exciting, and will leave you satisfied with a happy ending, then you might take a look at some of these movies from 1983.
Dance and music were a big part of a lot of movies in the 80s and Flashdance is no exception. Starring Jennifer Beals, this movie is the quintessential underdog story. Despite opening to poor reviews by critics, Flashdance was a success at the box office, with the third-highest box-office gross of the year.
Flashdance tells the story of steel mill worker Alex Owens and her desire to become a professional ballerina. Alex has no formal training and her only experience as a dancer is at the local bar and grill nightly cabaret. Despite the long odds, Alex is determined to achieve her dream.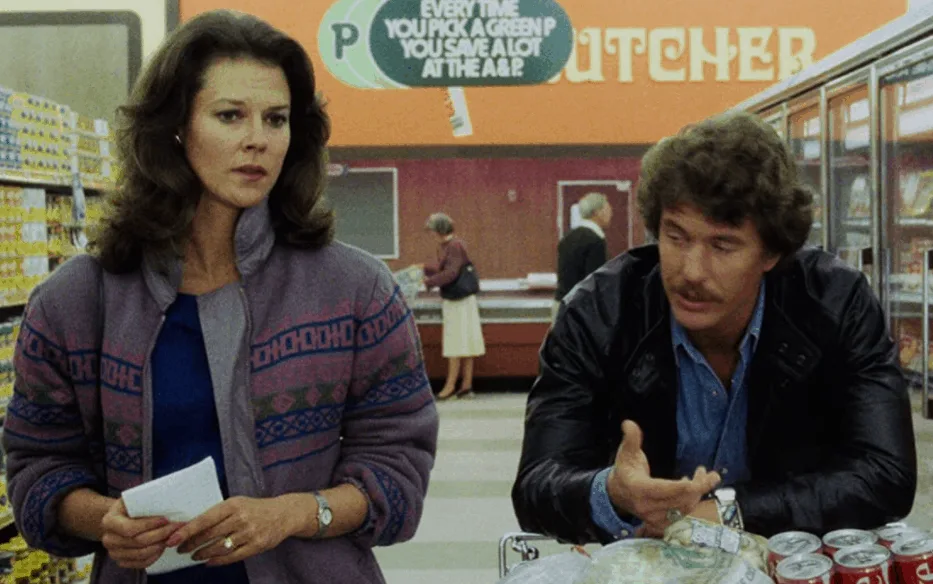 When you start watching The Big Chill, you might wonder what's so feel good about the film. But when it's all said and done you're left with a feeling of nostalgia and warmth. The movie has its share of twists and turns, a few of which you won't see coming, but overall, it's a feel-good flick that represents some of the best things about days gone by.
The Big Chill is packed full of stars, including Glenn Close, Tom Berenger, Jeff Goldblum, Kevin Kline, and William Hurt, who play a group of Michigan graduates. These baby boomers come together again to bury a friend while facing the reality that their best years may be behind them and pondering what lies in their futures.
The Most Rewatchable Movies of 1983
These are the movies you can always come back to when you're just not sure what you want to watch. They are films that you can put on repeat, sit back, and enjoy.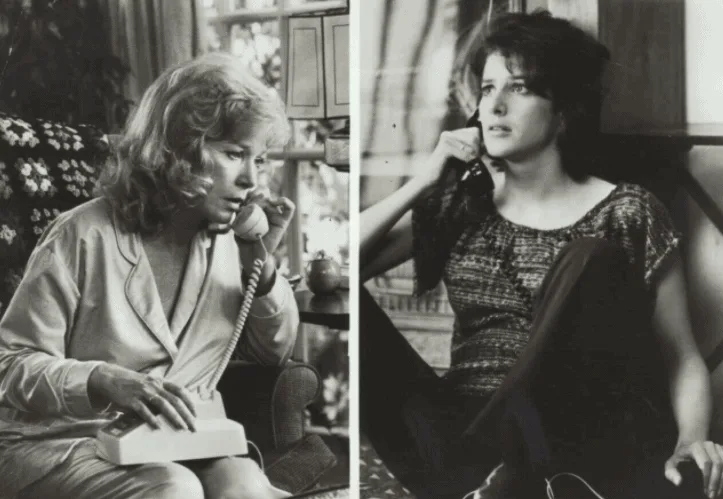 If you're in the mood for a family drama, Terms of Endearment might be just what you need. This film stars Shirley MacLaine, Danny DeVito, Debra Winger, Jack Nicholson, John Lithgow, and Jeff Daniels. Terms of Endearment follow the three-decade-long relationship between Aurora, played by MacLaine, and Emma, her daughter, played by Winger.
Terms of Endearment was 2nd in terms of gross in 1983, receiving eleven Academy Award nominations. The film walked away with awards for Best Picture, Best Director, Best Supporting Actor, Best Screenplay, and Best Actress. It's safe to say, you can't go wrong with this wonderful film full of comedy and heartache.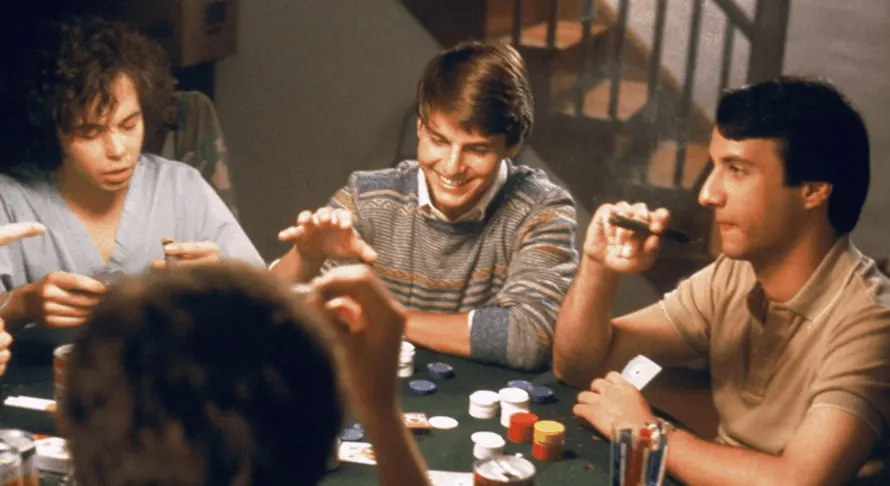 Risky Business might be the most popular and well-known movies from 1983. If nothing else, it has the distinction of having one of its iconic scenes depicted and parodied in other films, television shows, and even advertisements. The film centers around Joel Goodson, played by Tom Cruise, who learns a lot about life, love, and how the world works.
In one memorable scene, Joel is seen dancing around his home in a white button-down shirt, socks, and his briefs while lip-syncing Old Time Rock n' Roll.
Joel continuously finds ways to get himself into jams and must find creative and resourceful ways to get out of them. This fun-filled comedy that touches on teen angst finds a way to explore a wide variety of themes without alienating its audience.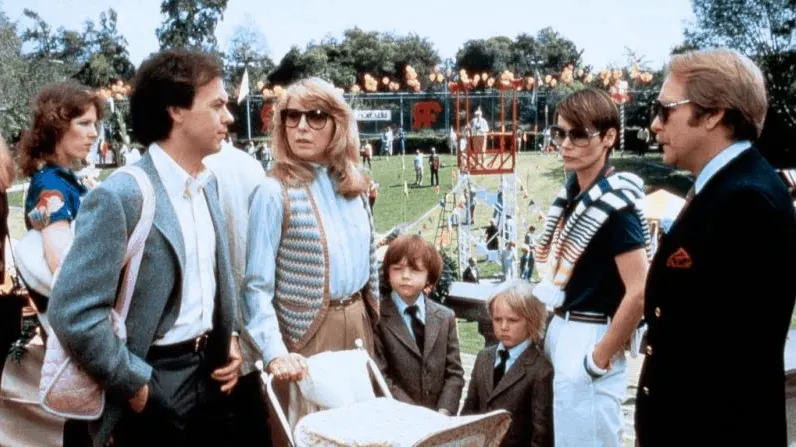 While Mr. Mom doesn't carry the cache or popularity that Risky Business does, it's still a fun-filled movie with a lot of excitement, creativity, and plenty of laughs. With stars like Michael Keaton, Teri Garr, and Christopher Lloyd, Mr. Mom is one of those movies that will have you quoting lines long after it's over.
The premise of Mr. Mom is exactly what you probably think. It's about a father who loses his job and must take over the "mom" duties as his wife returns to the workforce. Keaton's character goes through the challenges of going from the working world to managing his life at home. And, as expected, hilarity ensues.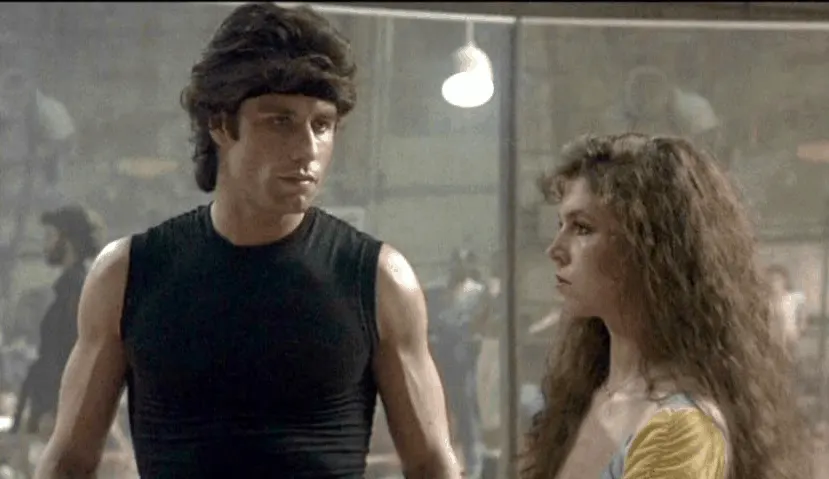 We've already talked about Flashdance and briefly discussed Footloose, which came out in 1984. But another popular dance movie that was released in 1983 that doesn't get much attention is Staying Alive, featuring John Travolta and Cynthia Rhodes.
Named for the Bee Gees song that bears the same name, Staying Alive is the sequel to Saturday Night Fever. The film picks up with Tony Manero trying to fulfill his dream of becoming a professional dancer despite the poor circumstances in which he finds himself
Funniest Movies from 1983
If you want to laugh, these classics are timeless and never get old. Even if you've seen them before, you'll probably laugh again. And again. And then again.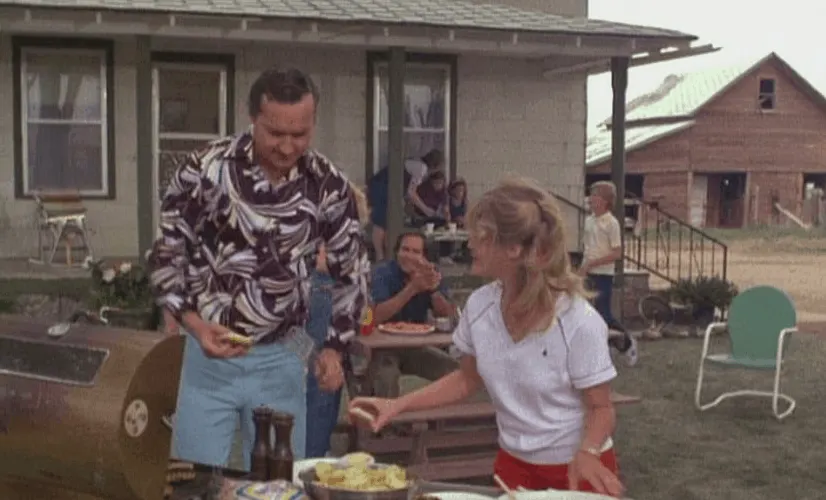 If you're a child of the 80s and you haven't seen this original National Lampoon movie, you may want to take a long hard look in the mirror. Featuring stars Chevy Chase, Beverly D'Angelo, Randy Quaid, and John Candy, Vacation is the quintessential movie to watch if you're planning a road trip with your family.
Of course, as with most movies that star Chevy Chase, hilarity and hijinks ensue. From tying their dead aunt to the roof of the station wagon to becoming stranded in the desert, Clark, Ellen, Audrey, and Rusty Griswold chase the elusive perfect family vacation. There's plenty more to enjoy though, so if you haven't seen this movie, it's definitely worth checking out.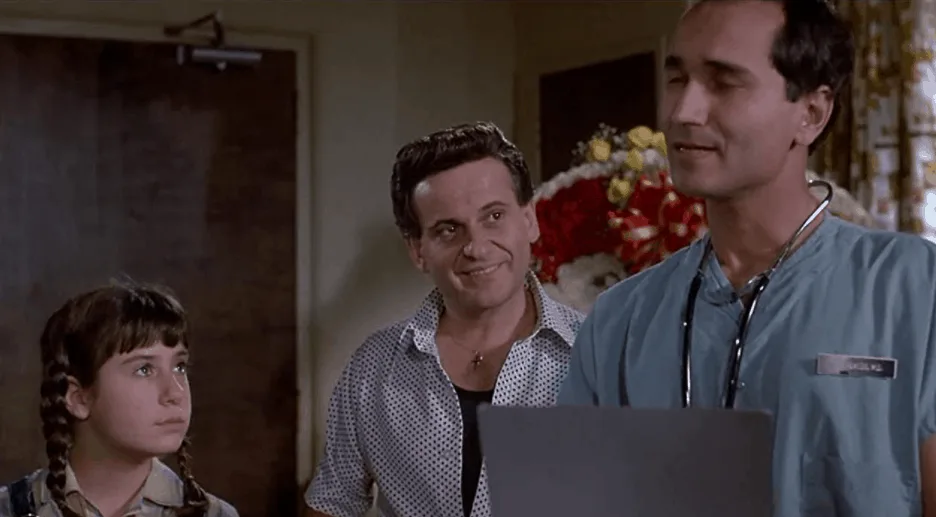 Some people can easily give up their vices and addictions while others have to be coerced. Montgomery Capuletti falls into the latter category, something his mother-in-law despises about him. As a result, in her last will and testament, she promises "Monty" $10 million is he can change his ways for one year.
Monty, played by Rodney Dangerfield, does his best to change his ways, much to the chagrin of his friends. Also starring Joe Pesci and Jennifer Jason Leigh, this movie is a fun, wild, romping good time. If you're a Dangerfield fan, you're sure to enjoy Easy Money.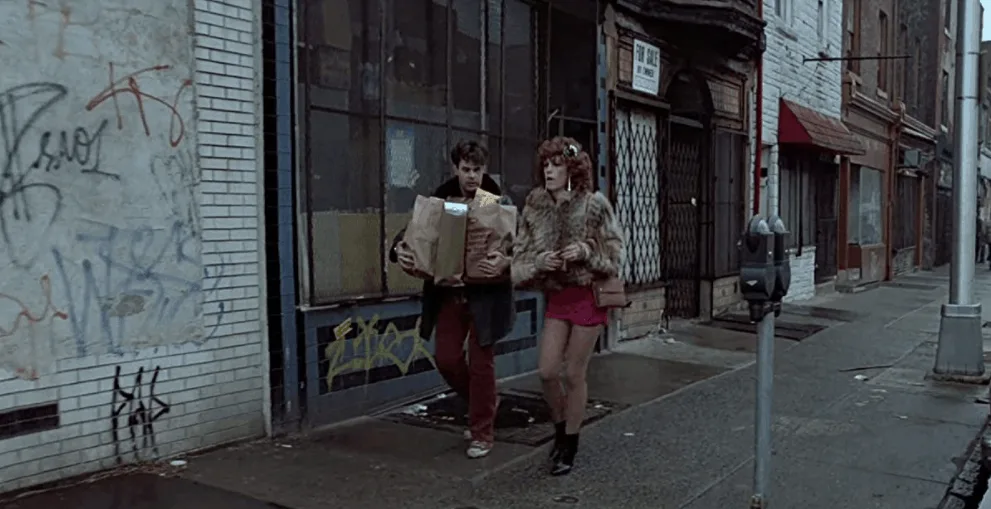 Another fun movie from 1983 you're sure to enjoy is Trading Places, which features high-profile actors Dan Aykroyd, Eddie Murphy, and Jamie Lee Curtis. Aykroyd and Murphy play two characters who are unwittingly part of an elaborate bet between two wealthy men.
The subject of the bet is to determine how each man will behave when their lives are swapped with one another. However, the bet is soon discovered, and the two men must work together. Will they be able to change their fortunes or will they remain locked in their previous lives?
Creepiest Movies from 1983
For those of you who like to walk through the dark forest alone at night, 1983 offered a few creepy movies from horror author Stephen King for you to enjoy.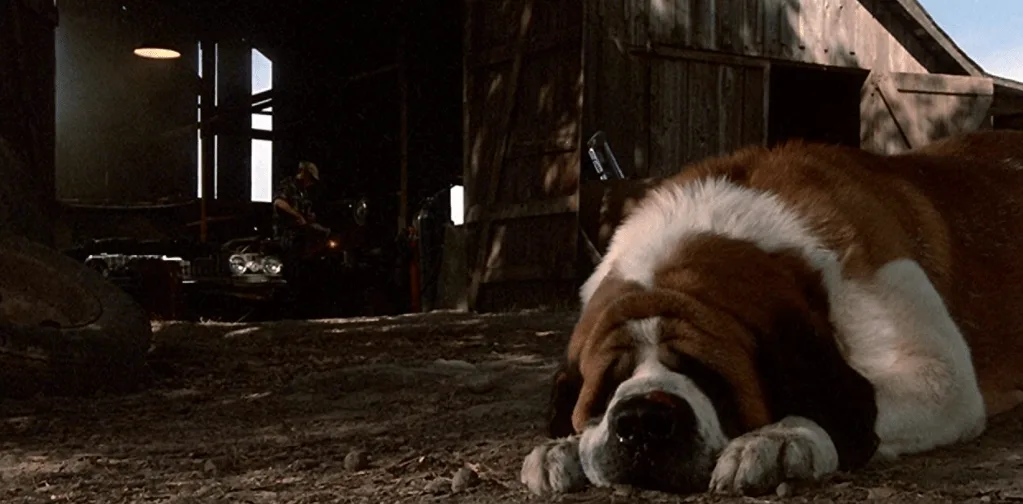 If you're a dog lover, Cujo may not be the movie for you as this film is about a St. Bernard that goes crazy after a rabid bat bites him. Adapted from the Stephen King novel of the same name, Cujo focuses on Donna and Tad and their fight to survive against the dog that's now has a taste for human blood.
However, even though the movie falls within the horror genre, you probably shouldn't get your hopes up. There are moments of suspense and surprise, but they are few and far between. Critics gave the movie poor reviews, so only those completely dedicated to the genre are really going to enjoy this film.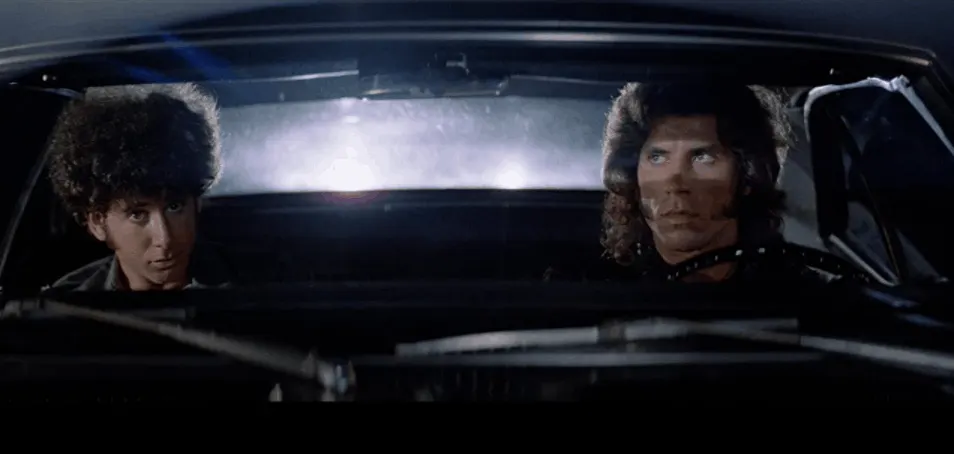 Our second Stephen King adaptation, Christine is the story of a possessed 1958 Plymouth Fury that kills anyone who comes between her and her owner. Like Cujo, you're not likely to recognize anyone in this chilling movie, but that doesn't mean it doesn't deliver.
Christine tells the story of teenager Arnie Cunningham and his Plymouth Fury. After rebuilding the car, Arnie's behavior begins to change as he becomes more aggressive, paranoid, and arrogant. Those who bully Arnie are run down one by one as it becomes evident that Christine is a car that not only has a mind of its own but a jealous streak as well.
Most Underrated Movies of 1983
These are those movies you may have heard about from your crazy friend who raves that it's the "best movie ever." While these may not be the best movies you've ever seen they're worth your time if you want something a little outside the norm.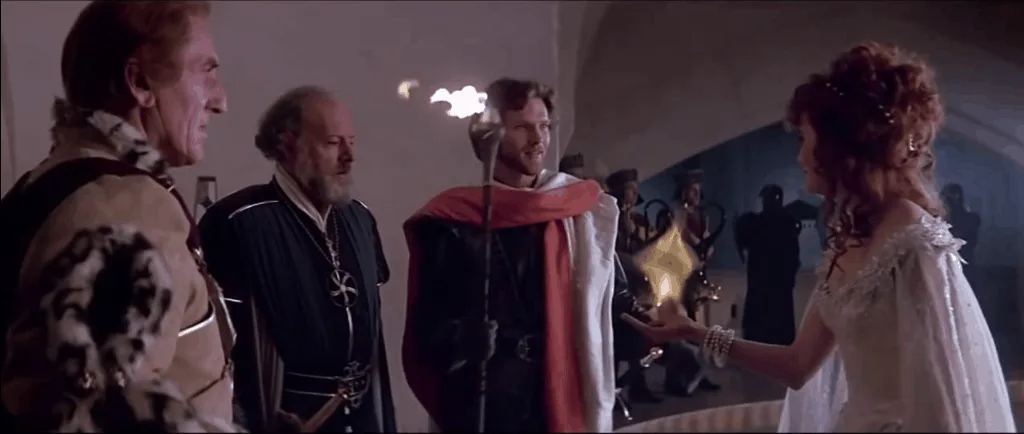 This fantasy pirate film follows along with Prince Colwyn and his band of outlaws that reside on the planet of Krull. They are tasked with saving the future queen from the villain known as "The Beast" and his Black Fortress that teleports every morning to a new location.
While the movie has never received very good reviews, it boasts a cult following that continues to grow. Some refer to Krull as a mashup of Star Wars and Excalibur. One critic even went so far as to label the movie nonsensical and illogical. Keep that in mind if you decide to spend a few hours watching this fun and creative movie.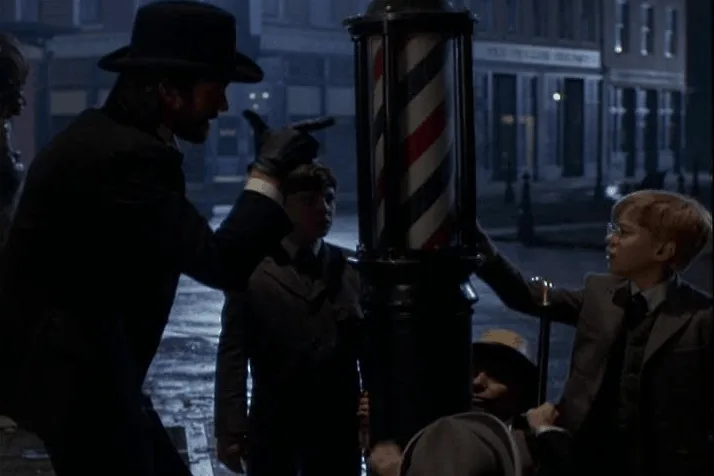 Something Wicked This Way Comes is a dark fantasy movie that is based on the Ray Bradbury novel that bears the same name. If you're the type of person that wants to see a story jump right off the page and onto the big screen, this is the movie for you.
This film focuses on Jim Nightshade and Will Holloway and the trouble they've found themselves in as a result of witnessing some rather nefarious goings-on by the circus and its leader, Mr. Dark, played by none other than Jonathan Pryce. Something Wicked This Way Comes is a great blend of boyhood innocence and grown-up horror that might make you rethink your next trip to the carnival.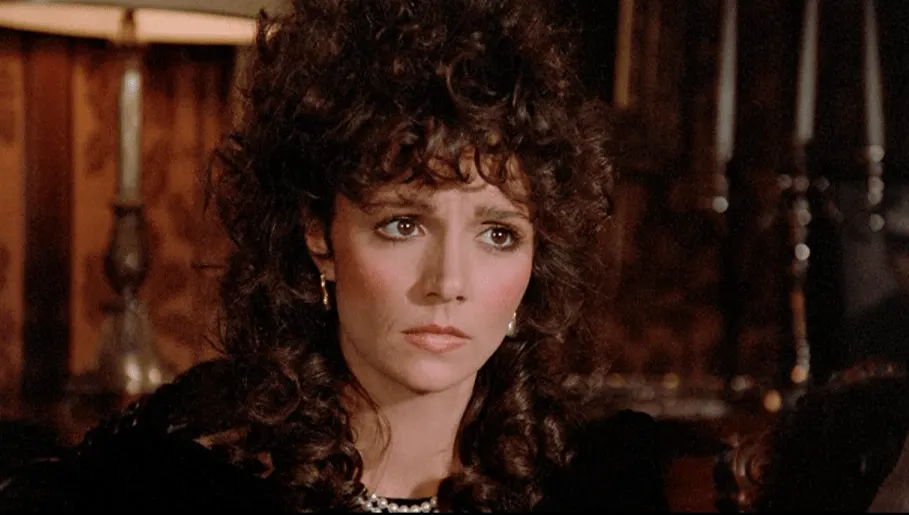 Unless you're deep in the world of 1983 cult classics, there's a good chance you've never heard of the film Of Unknown Origin. This suspense-filled horror film centers around your run of the mill man, Bart Hughes, and the life he leads in New York, part of which is the recently completed renovation of his townhome.
Hughes stays behind to focus on a work project while his wife and child go on vacation. The project could potentially earn him a promotion, but soon a rodent begins to cause him trouble. Throughout the film, Hughes becomes more and more obsessed with the rat, eventually succumbing to his desire to kill the animal. But in a battle between man and rodent, who will prevail?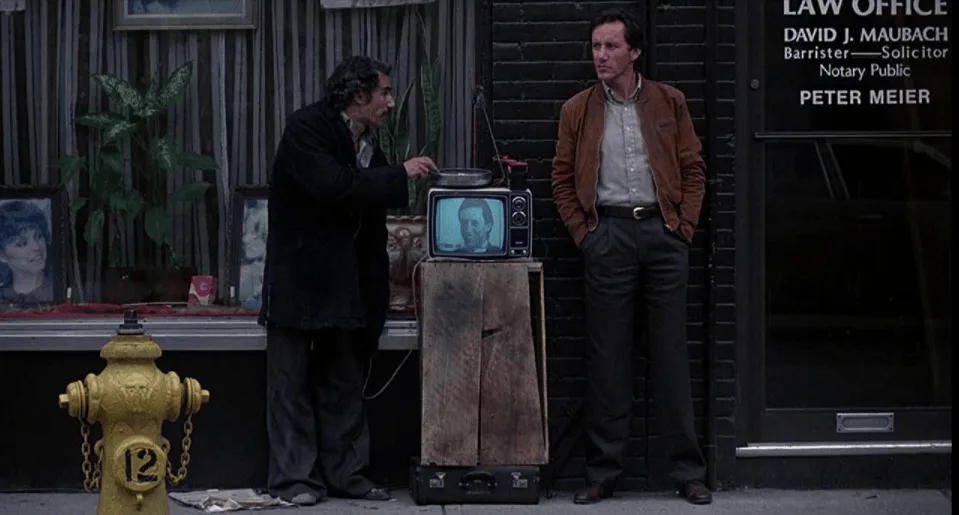 Arguably the biggest cult classic of 1983, Videodrome is a sci-fi horror film that features James Wood, Debbie Harry, and Sonja Smits. This film is a little dark at times, so if you're into those types of movies, you are in store for a treat.
Videodrome focuses on Max Renn, the CEO of a television station, who is desperately searching for new ways to appeal to his viewers. He inadvertently comes across Videodrome, which is a show that is dedicated to the gruesome and macabre. Max believes this is just what his station needs, but as he digs deeper, discovers that the content may not be as fake as he believed.
FAQs
Question: What movie made the most money in 1983?
Answer: It should come as no surprise that Return of the Jedi grossed the most money in 1983, hauling in an impressive $253 million. Coming in second was Terms of Endearment at $108 million, followed by Flashdance, which totaled nearly $93 million.
Question: Which movie won the Academy Award for Best Picture for 1983?
Answer: The Academy Award for Best Picture Picture of 1983 went to Terms of Endearment, produced by James L. Brooks.
Question: Who won the Academy Award for Best Actor in 1983?
Answer: Robert Duvall won an Academy Award for Best Actor in 1983 for his role in Tender Mercies.
Question: What movie made the most money in 1983?
Answer: It should come as no surprise that Return of the Jedi grossed the most money in 1983, hauling in an impressive $253 million. Coming in second was Terms of Endearment at $108 million, followed by Flashdance, which totaled nearly $93 million.
Question: Which movie won the Academy Award for Best Picture for 1983?
Answer: The Academy Award for Best Picture Picture of 1983 went to Terms of Endearment, produced by James L. Brooks.
Question: Who won the Academy Award for Best Actor in 1983?
Answer: Robert Duvall won an Academy Award for Best Actor in 1983 for his role in Tender Mercies.
Question: Who won the Academy Award for Best Actress in 1983?
Shirley MacLaine won the Academy Award for Best Actress in 1983 for her performance in Terms of Endearment.
End Credits
1983 may not have been the best year ever in terms of standout films but there are still plenty of solid films to watch if you're looking for something new or unique. Return of the Jedi, Terms of Endearment, Scarface, and Risky Business are all great options if you want to settle down for the evening with a big bowl of popcorn and a movie.
Of course, there are also plenty of films not as commonly known from 1983 if you prefer to wander a little further from the fray. National Lampoon's Vacation, Mr. Mom, and War Games are just a few of the quality films from 1983 that you can enjoy.
Further read: